Text Size Large SizeMedium SizeSmall Size    Color Scheme Black SchemeWhite SchemeGrey SchemePaper Scheme        
Edward's Twilight
Summary: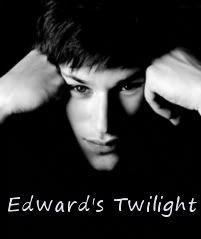 The world is on it's axis...and reversed? What if: Edward was the vulnerable human? Bella was the powerful vampire? La Tua Cantante was not a problem with strong Bella? What if...there were other problems? Hey, you, yeah, you with the eyes. Come click on this story. It's worth it. Lol. Chapter 10 is up fool!
---
Notes:
OKAY! Well, I posted this before, but then I deleted it because I didn't like it anymore. BUT I just re-wrote it, so now I'm reposting it. Let's see how you guys like it now. Yes, the people are out of character, that's why you call it AU: alternate universe! hooray! anway... Disclaimer: It's pretty much all stephenie meyer's...except the idea. I don't own Eddie *hangs head in defeat*
---
8. Excited
Rating 4.5/5   Word Count 525   Review this Chapter
I woke up the next morning feeling better than I had since…well, ever.
I rolled over in bed, smiling to myself. Last night with Bella had been amazing; I had gotten to know so much about her. But still, I hadn't gotten home until 10, and even after that, I had called Bella and we stayed up until 2 in the morning just talking.
I rubbed my tired eyes and got ready for school, making sure I looked okay. I was excited to see Bella again, but it wouldn't help if I looked like crap. I never usually cared about what clothes I was wearing, until today. I picked out a long-sleeve dark green shirt that Renee always said looked good with eyes, and simple baggy jeans that hung low on my hips and had several rips in them. I wondered slightly if Bella thought I looked good. I mean, it probably wasn't even a quarter of how I looked at her. She was a perfect angel, whereas I was a mousy weirdo.
I went downstairs and saw Charlie at the breakfast table, newspaper at hand and eating an omelet.
"Hey, I made you some too," he said gruffly, nodding towards the counter.
"Thanks," I said, grabbing it and some orange juice and sitting down at the table.
"So, we didn't really get a chance to talk yesterday. How was school? Did you make any friends?" He asked, looking up from the newspaper.
"It was okay. Some nice teachers. Yeah, I made a few friends," I said nonchalantly. I also kinda really like this girl who is sooo out of my league it's not even funny. I decidedly kept that thought to myself.
"Really, like who?" he asked, looking back down.
"Er…Eric, Mike, Jessica, and Bella Cullen…" I ticked off quickly.
"Sounds good. Probably good kids. Wait, Cullen?" He paused. I panicked slightly. Did their family know Charlie? I don't know why that freaked me out, it just did.
"Yeah," I swallowed hard.
"Must be the doctor's kid. Good family. Don't listen to any of the crazy stuff anyone says about 'em. They're a nice couple with great kids. Never a lick of trouble from any of them," Charlie said surely. Apparently not everyone thought so.
"Yeah, I met her brother and sister too. I thought they were nice." And a bit creepy, but, well. "Really…good looking too," I added.
"Yep," Charlie laughed. "Nurses have a hard time concentrating on their work with Carlisle around. It's a good thing they moved here though, he keeps the hospital running real well."
"That's good. Well, I should go. School's about to start," I said, getting up and washing my plate.
As I said goodbye and got in my truck, I realized that was the longest conversation I'd had with Charlie in years. Kinda sad, but so true.
When I got to school, I almost got whiplash from looking around the parking lot frantically. Calm down, Swan! I yelled at myself internally. The Volvo was there and I smiled before getting out.
Chapters
Information
Author

Rating

Reviews

213

Words

14368

Views

1

Published

18 Jan 08

Updated

01 Nov 09

Status

In Progress
Categories