Text Size Large SizeMedium SizeSmall Size    Color Scheme Black SchemeWhite SchemeGrey SchemePaper Scheme        
Dress up with the Cullens
Summary: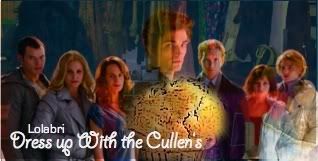 The new amazing banner is by Iris! She is awesome! The Cullens are going wacky playing dressup!(Yes the boys are playing!) You've got to see what Bella and Edward are! Emmett goes crazy! By the way, have you ever seen edward stuck in the mall with his family, also dressed up in silly costumes? You will in this crazy aventure with the cullens! PLAY FORMAT Check out the sequel Disneyland With The Cullens!!!
---
Notes:
ANNDDD here is dressup with the cullens! Enjoy!
---
10. New Banner!
Rating 5/5   Word Count 24   Review this Chapter
Tell me if ya like my new banner! Iris rules! Go check the other one Iris made for he sequel, "Disneyland With The Cullens"!