Text Size Large SizeMedium SizeSmall Size    Color Scheme Black SchemeWhite SchemeGrey SchemePaper Scheme        
Breaking Dawn; Revised Edition
Summary: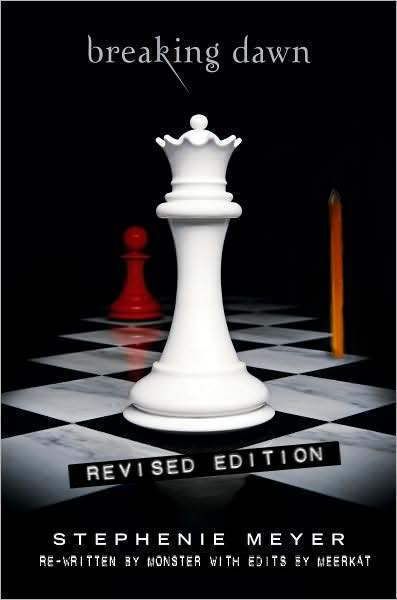 Well for those of you who were not satisfied with Breaking Dawn and the perfection in Bella's life, this story is for you. We're taking a heavy duty (haha doodie...)vacuum and sucking out the sugar, leaving the main plot, but adding a little dash of pain and maybe a few more deaths. Hope you enjoy! PS- This fan fiction belongs completely to Stephanie Meyer...All the characters, writing, etc. etc.
---
Notes:
M'kay, a friend and I read Breaking Dawn, and let's just say, we weren't very happy with the outcome, so we've decided to try and re-write the story with a little more drama. I also really hope I don't have to change the title because I can't think of anything creative enough. XD We're sorry if we're slow because for one, there's two of us here trying to collaborate, and we're also a little (okay, maybe a lot) behind on summer reading for this up coming school year. We'll keep it going as fast a possible though! Thanks!
---
6. Chapter Three; Part One; Bells for Bella
Rating 5/5   Word Count 1270   Review this Chapter
On the wedding day, I woke up alone. For a moment this unnerved me, and in a whirl of panic I thought that Edward had left me again. But while frantically searching the room, I found a note lying on the bed where Edward would've been, had he been here.
"Good Morning Beautiful,
I hope you're not too nervous for the big day. I would've stayed with you all night and all day until you walked down the aisle, but Alice is into this traditional stuff for our wedding, which includes the groom not seeing the bride until she comes down the aisle.
I'll see you soon, love so get ready, eat breakfast, and don't do anything stupid. Alice will be waiting for you at eight.
Forever Yours,
Edward"
I breathed a sigh of relief. It was just stupid to think that Edward would leave me now. He'd promised me, and Edward is a gentleman. With a yawn, I checked the time on my alarm clock. Half past seven. I had half an hour to get what I wanted done before I had to get what Alice wanted done.
I grabbed my bag of toiletries and shuffled to the bathroom where I brushed my hair, washed my face and brushed my teeth. I contemplated taking a shower to calm my nerves, but Alice wouldn't appreciate wet hair, especially since I'd showered last night and didn't need one now.
Back in my room, there was a single outfit waiting to be worn. I didn't look close, but I could already see it was silky, expensive and probably from Paris. With a scowl on my face I searched my dresser for something else to wear, but Alice was thorough. I thought of wearing my pajama sweats, but the look I imagined on her face was enough to scare me into wearing whatever it was.
"Alice," I groaned, as I pulled the hanger out of my closet. "This is the morning of my wedding. Nobody is going to see me in this. Shouldn't I be comfortable?" I slipped on the beige dress and to my displeasure found it very comfortable, but still expensive. I could accomplish comfort in a pair of sweats and save myself a couple hundred dollars. No to mention the fact that this was just going to get make-up and hair spray on it.
"Dad, are you down there?" I called.
"Yeah, I'm here," came his gruff reply. "Are you ready to go?"
"Um, I think I'm going to eat breakfast first," I said, stepping carefully down the stairs, bashful in my expensive dress. I pulled open one of the yellow cupboards and grabbed a bowl and a box of cereal, as well as a spoon from a drawer, pouring a small bowl, I sat down and attempted to eat and calm my nerves. I was going to be late for my meeting with Alice, but this was technically my day, and I needed more time. I took one more spoonful of the cereal, which in my anxious state tasted a lot like cardboard, before pouring the rest down the drain.
"Okay, Dad," I spoke up, he'd turned on the TV in the living room. "I'm ready if you are." His boots clunked against the linoleum as he came around the corner. In silence we headed out the door to his cruiser sitting in the driveway.
We were bordering on the edge of another awkward moment, but I didn't care. This would be my only wedding, and this could be one of my last moments alone with him. The car felt like it was crawling compared to the other times I'd sped down this route with a vampire behind the wheel.
"Bells," he started, and I braced myself. I wouldn't hold back anything I felt like saying. Not this time, not with Charlie. My dad. "I-erm- I just wanted to let you know that," he said, keeping his eyes on the road. "That…I'm-you're…That I'm happy for you, and- And I hope he keeps you happy."
"Thank you, Dad, I know he will keep me happy." I smiled, placing a hand on his arm.
"Yeah, well, if you ever change your mind…There will always be a bed made up for you…it's your room…it'll always be your room."
"Dad…thank you…for everything," I said, trying to put together everything I wanted to tell him. "We're so much alike, you know? Clumsy, awkward people that keep to themselves. I'm glad that I came here. It's basically because of you. If you weren't here, I wouldn't have found Edward, and found happiness and relief in my life. Thanks, Dad, I love you." I thought it over in my mind. Was that too cheesy? This wedding business was hard work.
"Love you too, Bells." We drove the last few miles in silence and as we pulled into the hidden driveway, Alice stepped out the door. She looked angry and impatient, and for a fleeting moment I wanted to stay in the car.
But Alice was already behind schedule, and even if she had to tear the door off, she'd get me out. Covering my eyes as I got out of the car, she helped me walk up the stairs to her room. I might have been blind, but the scents that wafted by me weren't missed.
"The flowers smell wonderful, Alice," I sighed, inhaling deeply. I couldn't define which flower was which, but I could tell that I'd never smelled something as beautiful as this…except maybe Edward.
"I had hoped you would like it. I had a feeling you didn't pay much attention to my wedding plans." Not until we were up the stairs and in her bedroom-sized bathroom did she remove her hand. Her counter was already covered in make-up and hair styling tools as she set to work.
She started with my hair, twisting and braiding and curling and straightening. I knew it would be beautiful, but the complexity was worrying me. From the corner of my eye, I caught Rosalie standing almost shyly by the door.
"If you're not here to help, go away," Alice growled, concentrating completely on perfecting my hair. Rosalie took a step in.
"What do you want me to help with?" She spoke in a bored tone, as though she didn't care if she helped or not.
"Start on her make-up. I want it as natural as possible. No blush. She'll do that on her own. Try and accent her eyes." Alice spewed out orders while Rosalie armed herself with foundation and eye liner.
They worked for around half an hour while my stomach growled. They both stared down at me as though they'd never heard the sound before. I'd broken their concentration.
"Sorry," I muttered. As soon as Rosalie was finished painting my face up, she fluttered out of the room and came back with a sandwich. Well, it wasn't really breakfast, but I was hungry, so I ate it, trying as hard as I could not to move my head because Alice was still hard at work, un-braiding and un-twisting and braiding and twisting. I wondered how she could do this for so long. I was fine with just leaving my hair down.
Finally she was done, and she left the room so I could get my dress on. Having the buttons on the beige dress helped a lot. I didn't want to smudge my make-up or mess up my hair by pulling it over my head, so I dropped it around my ankles and kicked it away before stepping into my wedding dress, my heart pounding. Just as she had done the day I tried it on, Alice zipped and buttoned the back.
A familiar voice called from the door of Alice's room.
Chapters
Information
Author

Rating

Reviews

32

Words

2341

Views

1

Published

10 Aug 08

Updated

23 Nov 08

Status

In Progress
Categories