Text Size Large SizeMedium SizeSmall Size    Color Scheme Black SchemeWhite SchemeGrey SchemePaper Scheme        
Full Moon
Summary:
Nessie leaves to go to a boarding school in England and leaves Jacob behind so she can have some space. But what happens when she realizes that she loves him? *Rated teen just in case!* **Thank you MRSBellaCullenBlack for this beautiful banner! You totally rock!**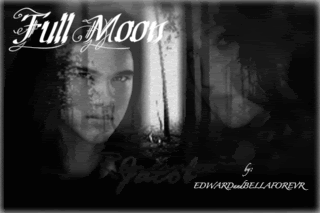 ---
Notes:

---
10. Wedding Plans
Rating 5/5   Word Count 786   Review this Chapter
After FIVE hours of getting through flower details and such, Aunt Alice finally let Jake and me take a break. I told him we should go to La Push so we could tell his friends.
Everyone was really happy. Quil kept laughing. I jumped at him and told him to shut up. Needless to say, it worked. Leah was really happy. In fact, she was going to be the maid of honor. Claire was flower girl, and Aunt Alice and Emily were going to be bridesmaids.
We finished up at Emily's house. Everyone had been there, so we got our job done quick. I told him we should go to the beach to enjoy the few minutes of freedom from Alice. He followed like an obedient puppy(no pun intended.) We only had another hour of freedom until we had to go back to Aunt Alice and her wacky and hyper planning. We found a dead log and sat down. We were silent for about five minutes, and then something that had been bugging me all of the sudden came out of my mouth.
"Jake, I have a question."
"Sure, what is it?"
"Um. Do you want kids? I mean if you don't it's fine, but...." He pinched my lips with his fingers.
"Of course I do! Especially if it makes you happy."
"How many?" I asked.
"Two!" Jake said.
"Five!" I said.
"Eight!"
"Nine!"
"Ten!"
"I'm not going to be a vamp/wolf/human version of 'Cheaper by the Dozen!'" I told him.
"At least we can agree about having kids," he told me.
I looked down at my cellphone. We had ten minutes to get back home. I had gotten an ENV2 for a welcoming back present from Jake. We walked over to my Jetta that my parents had bought me. They had wanted to get me a fast car, but ever since Sam had shown me pictures of her cousin's Jetta, I had been dying for one. My parents couldn't deny my wish, even if they had wanted to buy me a Jaguar.
I had started driving when I got a text message.
YOU BETTER GET HERE SOON!
LOVE, ALICE xoxo
I texted her back, telling her we were on our way.
I looked at Jake,"Torture is about to come," we both groaned.
I pulled into the driveway. This was like living a nightmare.
We walked up the stairs to Aunt Alice's room. When I opened the door, it looked like there had been a tornado. Alice was obviously the tornado.
Jake and I had also figured out we needed to ask my grandma something. Luckily, she was in the room.
"Grandma, i have a question."
"What is it, my dear?"
I nudged Jake. He was as part of this as well.
"Well Esme. We were wondering if you could build us a house?"
"Why of course! It will give me something fun to do!" She started to draw. She saw us try to look,"Shoo, shoo! It's a surprise!"
Aunt Alice showed me designs for wedding dresses. I chose one that is strapless, has designs on the top and bottom. She had also chosen the bridesmaids dresses' and Jake and his friends would wear. The bridesmaids' dresses were dark red and strapless. And she had chosen what food was going to be served. Basically, everything was done.
"So when do you want the wedding?" she asked Jake and me.
"What is the soonest date that you can have everything ready?" I asked. I really wanted to get married.
"Five days."
"How about in a week?" I asked. She agreed. She kicked Jake and me out. As we walked down the stairs, Uncle Emmett started singing the Wedding March.
"Shut up!" I told him.
"Then let me be the priest." I had originally had Uncle Jasper have that job, but I really did not want Uncle Emmett to be singing for a week.
"Fine!"
Just then, Uncle Jasper walked in. He wasn't that disappointed, and he agreed that he would send out calm waves to everyone.
Aunt Alice then skipped down the stairs. She told the whole family, who magically appeared, that we would be breaking the rules of bachelor and bachelorette parties. It would be tonight, it would be co-ed, and it was only with the family.
"What are we doing?" I was in a car with a blindfold over my eyes. I was a little scared.
"You'll see!"
Confession time: I was now deathly scared.
Information
Author

Rating

Reviews

116

Words

16517

Views

1

Published

14 Mar 09

Updated

19 Jun 10

Status

Complete
Categories