Text Size Large SizeMedium SizeSmall Size    Color Scheme Black SchemeWhite SchemeGrey SchemePaper Scheme        
Full Moon
Summary:
Nessie leaves to go to a boarding school in England and leaves Jacob behind so she can have some space. But what happens when she realizes that she loves him? *Rated teen just in case!* **Thank you MRSBellaCullenBlack for this beautiful banner! You totally rock!**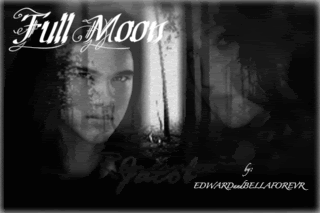 ---
Notes:

---
12. The Wedding (PART 1)
Rating 5/5   Word Count 710   Review this Chapter
The week went by really fast. Before I knew it, it was the day of the wedding. To say I was nervous was an understatement.
"Nessie, unlock the bathroom right now before I kick it down!" my mother tried to get me to come out on my own, but I wouldn't. She really was serious about kicking the door down. I was sitting on the edge of the bathtub, panicking.
"Mom, I don't think I can do this!" I cried.
"Honey, it you love Jake, which I know that you love him with every cell in your body, the love will beat the nervousness. I felt the same way when I married your father. Now come on, Aunt Alice is dying to get you ready!"

The wedding would start at 3:00. It was nine in the morning right now. Leah, Emily, and Claire were already here. I didn't know why though, since Aunt Alice had done everything last night.
Aunt Rosalie did my hair. I told her I wanted something simple, so she gave me a bun. It wasn't to fancy, and at the same time, it wasn't to bland. Aunt Alice and my mom did my makeup. While they were doing that, Grandma Esme was fixing the arrangement of the food and taking care of the flowers.
By the time we were done with my, Emily, and Leah's hair and makeup, it was 2:00. Claire was dressed as my flower girl, and she looked really cute. Her dress was like the bridesmaids', except a little different.
Leah kept fixing her dress. She didn't know how beautiful she looked.
"Leah, you know you're gorgeous. So calm down. Okay? Deep breaths."
"Thanks, Renesmee. I'm really glad you and Jake worked out." I smiled back at her, and then went to find my mother. Everyone was around her. I wondered why.
I then remembered that my mom had asked me if I wanted to do the "something old, something new," and I had told her she could do whatever she wanted. I guess she had took that as a yes.
Aunt Rosalie started,"For something borrowed, I wore these to my 27th wedding to Emmett," she handed me diamond earrings that hung down a little bit. My kind of jewelry.
Aunt Alice went next,"For something old, this ring is from the 50's," she put a pretty blue ring on my finger.
Emily and Leah went next,"We saw this in a window of a store, and it looked perfect, so this is your 'something new' gift," and they handed me a diamond tiara. They put it in my hair.
My mom and Grandma Esme were last,"For something blue, we found this," and they put a sapphire necklace around my neck.
"Thank you all so much!" I was close to crying.
I opened my mouth to say something else, but Aunt Alice beat me to it,"Yes, we know we went out of order. I thought it would spice it up a bit."
We all laughed. Aunt Alice had always been strange, but I love her for it.
It was now 2:55. Aunt Alice said that we should get in our places. She looked so excited. And she wasn't even the one getting married!
"Over excited, hyper pixie!" I thought. I jumped when I heard him laugh behind me. He has to stop sneaking up on people!
"You have to let Alice have her fun, or else she will hunt you down and make you shop with her to make it up."
"I love you, Dad," tears were threatening to pour over in my eyes.
"I love you too, darling. I'm so very proud of you!" A tear had escaped, and he wiped it away off my cheek. I smiled at him and gave him a kiss on his cheek.
And with that, the music started, and the doors opened....
TO BE CONTINUED
Information
Author

Rating

Reviews

116

Words

16517

Views

1

Published

14 Mar 09

Updated

19 Jun 10

Status

Complete
Categories