Text Size Large SizeMedium SizeSmall Size    Color Scheme Black SchemeWhite SchemeGrey SchemePaper Scheme        
Full Moon
Summary:
Nessie leaves to go to a boarding school in England and leaves Jacob behind so she can have some space. But what happens when she realizes that she loves him? *Rated teen just in case!* **Thank you MRSBellaCullenBlack for this beautiful banner! You totally rock!**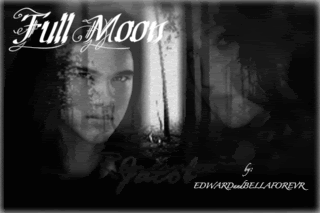 ---
Notes:

---
13. The Wedding (part 2)
Rating 5/5   Word Count 2276   Review this Chapter
Previously: And with that, the music started, and the doors opened....
I couldn't help but tighten my grip on my father's arm. I was so nervous.

Aunt Alice hadn't let me see the decor before the wedding, and I now knew why. It was really extravagant! I would have probably made her get rid of everything. But I knew something like this would happen if Aunt Alice was in charge.
Everything was covered in lace, silk, and tulips. I really hoped no one here was allergic to pollen, or else it might be a bad allergy day for them. In a square inch, there was probably 50 tulips(how Aunt Alice managed that, I do not know.) We kept walking(actually, my dad was practically about to carry me if I didn't start walking,) while I was staring everywhere in astonishment. Aunt Alice will never again be on my dirt list after everything she has done for me.

Tears of joy threatened to appear once more, and knowing that Aunt Alice will kill me, or even worse, make me turn around and do my make up all over again, I held the tears in.

My bridesmaid Leah walked along Embry, who was Jacob's best man. Later followed by Emily and Sam. And then Aunt Alice with Uncle Jasper. Uncle Jasper got the job since we gave the priest's job over to Uncle Emmett(I was either going crazy or totally tired of listening to the Wedding March when I made that decision.)

Claire, who looked extremely adorable with her designer dress (courtesy of my loving, fashion obsessed aunt Alice) skipped her way up the isle smiling and taking fist fulls of tulip petals, letting go of them on every step she took. There were tulip petals everywhere by the time we reached the bottom of the stairs.

It was time now. It was time for me to walk up the isle along side my father. I started getting really anxious.

Dad gave me a reassuring squeeze. I took a deep breath and started to walk. Everyone soon stood up, giving me there undivided attention. Which each step I felt as if my heart would burst out of my chest. I glanced over to my left to notice that my Aunt Rose could keep away from her seat, and began to take pictures. She actually looked happy that I was marrying Jake. Maybe this could lead to a truce.
Everyone was astonished at how beautiful I looked. Grandpa Charlie and Grandma Sue(they got married when I was about 3) were surprised to see how grown up I was looking. I didn't need Uncle Jasper's power to know that the pack were jealous of Jake(mostly Quil since he has to wait quite a few years.) The Denali clan had come, and Kate and Tanya looked so happy that I was getting my fairytale ending. They were still recovering over the death of Irena, so there was still pain in their eyes.
It seemed like an eternity before I reached my destination. My dad leaned down and wished me the best of luck also mention how proud he was. With a tight hug and a kiss on my forehead he walked toward my mother who seem like if she could she would be crying.
I looked upon the man of my dream. The man I want to spend an eternity with and couldn't help but smile even more. His hair had been cut so it wasn't long. His pearl white teeth made his smile even more radiant. He looked absolutely perfect.
The look in his eyes only proved me that this was meant to be. That this between us was what i wanted. What we wanted....
I looked at Uncle Emmett, and I was so very glad that Uncle Jasper was using his power. Uncle Emmett was using a very high-pitched voice, and he was wearing little glasses. Concentrate on Jake, Nessie. I was giving myself a little talk, and of course it wasn't helping my father was hiding a smile.
We got past most of it with no problem, and no tears yet. But of course, when I had to say "I do" I burst into tears. I was so happy that Jake would officially be mine in a few minutes.
Of course Jake said it so clearly, but he looked like he was about to cry as well. How did I get someone so perfect like him as a husband?
We said our vows, and we put on the rings. The entire time I was still crying. I was wondering if Aunt Alice would be mad at me for ruining my make-up. Only I would be thinking of that during my wedding.
When Uncle Emmett said," I now pronounce you husband and wife. You may now kiss the bride," I think my heart was beating 100 beats per second. Jake leaned in to kiss me, and I was trying to think straight.
When his lips pressed against mine, it was much different than when we kissed at the school dance. This, this was perfect. When we first kissed, we were just figuring out we loved each other. But this was our first kiss as husband and wife. And it was absolutely perfect.
The wedding flowed smoothly into the reception. There were tables filled with food. The pack better be hungry, or else all that food will go to waste. And the cake was humongous! Most of the guests can't eat, and the cake looked like it could feed 5,000!
We sat down and ate. The food was amazing. In the middle of dinner, Leah stood up and said she wanted to make a toast,"I would just like to congratulate the happy couple. I've known both of them for a very long time, and I'm thrilled they got their happy ending. I wish for both of you the best of luck!"
Embry was up next,"Jake and I are best friends, and he's always been so depressed. Nessie, thank you so much for letting Jake get his fairytale ending. Love ya both, and I can't wait to see you get through the years together." T
hen it came time for Jake and I to dance our first dance as a "young, married couple"(Uncle Emmett's words, not mine.) Aunt Rose had forced Jake and I to go take dance lessons. I was hoping we would remember the steps as we started to walk into the middle of the dance floor.
While Jake and I had been forced to stay up until 1 am, I found time to look up songs that we could dance to. I had found a perfect one called "Lucky" The song started, and Jake and I started to dance.
Do you hear me
Talking to you
Across the water across the deep blue ocean
Under the open sky oh my, baby I'm trying
Jake started whispering in my ears," Mrs.Black, this song could be written about us." When he had said 'Mrs.Black' I shivered. It would take some getting used to. Of course, I didn't mind it. I felt like I should've just been named Mrs. Black to begin with.

Boy I hear you in my dreams
I hear your whisper across the sea
I keep you with me in my heart
You make it easier when life gets hard

I'm lucky I'm in love with my best friend
Lucky to have been where I have been
Lucky to be coming home again

They don't know how long it takes
Waiting for a love like this
Every time we say goodbye
I wish we had one more kiss
I wait for you I promise you, I will

I'm lucky I'm in love with my best friend
Lucky to have been where I have been
Lucky to be coming home again
I'm lucky we're in love in every way
Lucky to have stayed where we have stayed
Lucky to be coming home someday

And so I'm sailing through the sea
To an island where we'll meet
You'll hear the music, feel the air
I put a flower in your hair
And though the breeze is through trees
Move so pretty you're all I see
As the world keep spinning round
You hold me right here right now

I'm lucky I'm in love with my best friend
Lucky to have been where I have been
Lucky to be coming home again
I'm lucky we're in love every way
Lucky to have stayed where we have stayed
Lucky to be coming home someday

Ooohh ooooh oooh oooh ooh ooh ooh ooh
Ooooh ooooh oooh oooh ooh ooh ooh ooh
My thoughts were everywhere from Jake and I and our new life, to my mom and dad and family. How was I so lucky to have a perfect family?
My dad cut my attention back to the real world,"Darling, may I have this dance?" I of course said yes, and the next song played.
Hey you, you're a child in my head
You haven't walked yet
Your first words have yet to be said
But I swear you'll be blessedI know you're still just a dream
your eyes might be green
Or the bluest that I've ever seen "
You have the prettiest brown ever," my dad whispered. Are they trying to get me crying every five seconds?!

Anyway you'll be blessed And you, you'll be blessed
You'll have the best
I promise you that
I'll pick a star from the sky
Pull your name from a hat
I promise you that, promise you that, promise you that
You'll be blessed I need you before I'm too old
To have and to hold
To walk with you and watch you grow
And know that you're blessed
My father gave me a kiss on my cheek as Jake claimed me again. The next song started and I felt at home in Jake's arms as we started to dance.
I remember, trying not to stare the night that I first met you
You had me mezmorized
And three weeks later, in the front porch light
taking forty-five minutes to kiss goodnight
I hadn't told you yet
but I thought I loved you then

And now you're my whole life
now you're my whole world
I just can't believe the way I feel about you, girl
Like a river meets the sea,
stronger than it's ever been.
We've come so far since that day
And I thought I loved you then

And i remember, taking you back to right where I first met you,
You were so surprised
There were people around, but I didn't care
Got down on one knee right there once again,
I thought I loved you then

And now you're my whole life
now you're my whole world
I just can't believe the way I feel about you, girl
Like a river meets the sea,
stronger than it's ever been.
We've come so far since that day
And I thought I loved you then

I could just see you, with a baby on the way
And I could just see you, when your hair is turning gray
What I can't see is how I'm ever gonna love you more
But I've said that before

And now you're my whole life
now you're my whole world
I just can't believe the way I feel about you, girl
We'll look back someday, at this moment that we're in
And I'll look at you and say
And I thought I loved you then
And I thought I loved you then
I danced with everyone. Eventually it was time for cake. At least cake was something that tasted good, and not like dirt. Jake was nice and didn't smother it all over my face. Since he was nice to me, I didn't either. But I was so close to.
The night flew by. Pretty soon it was time for me to throw the flowers, and Jake to remove the garter. Leah caught the bouquet, and Nahuel(we invited them along with Zafrina and some other vampires from the time we were witnessing to the Volturi) caught the garter. I think that Leah imprinted, but I was not totally sure. I'll have to remind myself to ask her.
All the guests left fairly soon after that. It was soon only Jake, my family, and me left.
"Nessie, Jake, follow me for your wedding gift," Grandma Esme was already out the door and we followed her about three miles. She stopped in front of a house. My house, well our house.
We walked inside and I was amazed. Grandma Esme showed me the kitchen(fully stocked with all my favorite foods,) the living room(that had so many comfy couches that I would be willing to sleep on them,) our bedroom, and some empty rooms. I was confused on the last one, until Jake told me,"Baby rooms."
I realized Grandma Esme had left, and it was only me and him. We strolled down the hall back to our room.
Please say there are some comfy pj's! Please say Aunt Alice was nice and didn't but we designer clothes! But my hopes were killed when I looked in the first drawer. All lace and satin. I quickly shut the drawer and moved on to the next few drawers. All of which were filled with the same things.
Then I realized it was only for honeymoon apparel. I started hyperventilating on that one. Jake calmed me down and hugged me.
Once I got my breathing under control, I kissed him like it was the end of the world. He looked into my eyes asking a silent question. I simply nodded as he shut the door....
Information
Author

Rating

Reviews

116

Words

16517

Views

1

Published

14 Mar 09

Updated

19 Jun 10

Status

Complete
Categories