Text Size Large SizeMedium SizeSmall Size    Color Scheme Black SchemeWhite SchemeGrey SchemePaper Scheme        
Full Moon
Summary:
Nessie leaves to go to a boarding school in England and leaves Jacob behind so she can have some space. But what happens when she realizes that she loves him? *Rated teen just in case!* **Thank you MRSBellaCullenBlack for this beautiful banner! You totally rock!**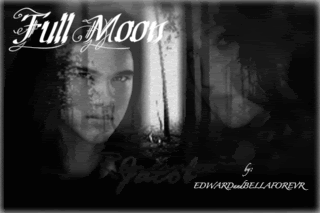 ---
Notes:

---
15. Alice, You're Killing Me
Rating 5/5   Word Count 811   Review this Chapter
"Come in," Grandpa's calm voice said from inside his office. Jake opened the door, revealing Grandpa sitting at his desk reading some book my dad had bought him for Christmas. I know he had at least read it 10 times, but he was still reading it. I guess he was reading in between the lines.
"Grandpa, Jake and I have something to tell you," I all but whispered. This caused him to shut his book and look strangely at us.
"You guys are already married, so what can you possibly tell me? It's not like you can be pregnant...."
That last statement he looked at me waiting for me to continue.
"You might want to rethink that last statement, Grandpa," I murmured. If it was possible, I'm sure he would've fainted.
"First your mother, now you. Are you sure? I guess you have more of your mother's humanness in you than I thought," he explained. Well, more like made it more complicated, but it's the thought that counts.
"Grandpa, what do you mean?" Maybe if I got an explanation I wouldn't be a cranky mother-to-be who just happens to be six.
"I originally thought that there would be too much vampire in you that would prevent you from having kids. I guess I was wrong," he said. At least that made sense.
"Let's see if my... great-grandchild is healthy, shall we?" He sort of winced when he said great-grandchild. I don't blame him. If I looked like I was not even 30, I would be scared at being a great-grandmother.
He pulled out his ultrasound machine, no doubt it was from when my mother was pregnant with me. Vampires don't just keep those around for no apparent reason(except Uncle Emmett. That was just a nightmare. He had been examining himself with the ultrasound, but it couldn't get scans of anything since his skin is too hard. He got mad, but didn't do anything. But he came downstairs all covered in the gel that they use. It took a while before Aunt Rosalie let Uncle Emmett into, and out of, her sight again.)
He put gel on my stomach. It was so cold, and it felt strange. I can't believe Uncle Emmett could put it all over himself and not feel weird.
He started moving the transducer over my stomach. I saw a heartbeat on the monitor. I reached out to touch it on the monitor, when I noticed I saw another flutter.
"Grandpa, what is that?" I pointed to the second flutter on the monitor. He looked shocked.
"Well, Renesmee and Jake, it appears you will be parents to twins," he whispered in shock. I started crying. Jake noticed, of course, and went from being on shock to worried in a matter of seconds.
"Ness, what's wrong?" I tried to open my mouth to reply, but I couldn't. After much trying, I finally opened my mouth,"Jake, I'm just so happy!" He smiled. I could tell he was very excited to become a father.
Grandpa wiped the gel off my stomach, and we were about to leave when Aunt Alice burst through the door,"Nessie, why didn't you text me. I had to sort through all these blurry visions to see that you are pregnant. Now I have a headache, figuratively speaking, so you owe me a shopping trip. You are going to get fat soon, so we need to buy you some new clothes."
Okay, did she really just say I was going to get fat. Now I was sort of mad at her. I glared at her. She quickly realized her mistake,"I mean, your beautiful babies will soon grow, so we want you to look like an awesome mom-to-be."
"Nice save, Auntie," she nodded, and I told her I would go. Jake, realizing it might be an entire day trip, found an excuse to stay home. I wish I could be that lucky.
We took Aunt Alice's Porsche, and got to the mall in less than an hour. She dragged me to every single maternity store there. And some baby stores as well.
"Alice, I love looking at this, but maybe we could wait to pick out the clothes for the babies until Jake comes," I looked at her to make sure she wasn't mad. She actually looked happy.
"You're right, Nessie. But he has to come soon okay?" I nodded, and she then pulled me into another maternity store. It was also very expensive. But knowing my aunt, nothing was to expensive for me.
"Aunt Alice, you're killing me." She just laughed, and told me that I should've expected it.
Somebody save me.
Information
Author

Rating

Reviews

116

Words

16517

Views

1

Published

14 Mar 09

Updated

19 Jun 10

Status

Complete
Categories