Text Size Large SizeMedium SizeSmall Size    Color Scheme Black SchemeWhite SchemeGrey SchemePaper Scheme        
Full Moon
Summary:
Nessie leaves to go to a boarding school in England and leaves Jacob behind so she can have some space. But what happens when she realizes that she loves him? *Rated teen just in case!* **Thank you MRSBellaCullenBlack for this beautiful banner! You totally rock!**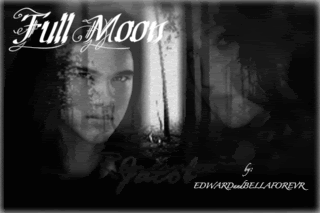 ---
Notes:

---
2. Destination Complete
Rating 4/5   Word Count 819   Review this Chapter
Full Moon-Part 2-Nessie
When we finally reached our destination, I was finally awake. It felt like a nightmare. In fact, I felt tears in my eyes. I was a horrible person. I knew my mother left Jacob once, now I had done the exact same thing. The flight attendant told us we could unbuckle our seatbelts and get up and stretch. I didn't need to, but if I didn't people would think I'm weird not stretching after a ten hour flight. I grabbed my luggage, my laptop, and the brochure of my future high school. I walked very slowly, so I wouldn't draw attention, and walked off the plane. Mom had arranged a shuttle to meet me and take me to my high school. It would take about thirty minutes, so I sat back and tried not to think of Jake. But every single memory I have ever had involved Jake. My birthday parties, my first day of school, late nights when he, my mom and dad, and I would talk about everything. But what was weird was that my parents looked like they wanted Jake and I together.
I eventually got to Roedean's campus. I paid the driver quickly so I could explore the campus before it got to late. I walked into the main office and asked for directions. The secretary was an elderly lady, who if didn't have the wrinkles and gray hair, reminded me of my Grandma Esme. She highlighted my schedule, directions to and from my classes, and told me I was in Dorm 3. I left, and once I saw no one was watching, ran as fast as I could to my dorm. Half-vampire came in handy more often then my half-human side of me. The only bad part about being part vampire is the diet. I started eating human food , which is really disgusting to me compared to my usual vampire diet. Wait. Everything but pop tarts, caramel popcorn, and pancakes are bad!
I quickly got to my dorm. I locate my key and opened the door in a swift movement. The dorm looked like a mansion in the inside! There was a huge kitchen. I went into the kitchen and open the cupboards. There are pop tarts! Heaven on earth! I left the kitchen and climb up the stairs. The bedroom has three queen-size beds! I could see the fabric on the beds weren't new, but they would do! I put my stuff done on a bed and looked around. No one was there.
"Hello? Anyone here?" I called to some unknown person.
"Hi! We're in the closet!" a girl called out from the closet that was as big as the bedroom.
I quickly learned their names were Samantha and Emma. Emma had short brown hair, brown eyes, and was really tan. She was from New Hampshire. Sam(she insisted we call her Sam instead of Samantha,) had short blond hair, blue eyes, and was fairly pale, although Sam wasn't as pale as my family. Sam was from Columbus, Ohio. I finished hanging up my stuff and got in my pajamas just as my cell phone rang. It was my parents, and probably Aunt Alice.
"Hello from England!" I said excitedly.
"Hello, honey! How are you? Did you get there safely? Do you feel okay? Are your roommates nice?" my mom asked each really fast before I could answer one.
"I'm fine. My roommates are nice and they seem like long lost sisters." I said reassuringly.
My parents questioned me for twenty minutes, then it was Aunt Alice's turn. I was braced for her questions.
"Did you hang up everything? Are the other girls' clothes as fabulous as your clothes?" she asked the questions about my wardrobe like they were going out of style, but she wouldn't say them if they were going out of style. I asked how my first day was going to go and she said, "It will go great! As long as you wear your denim skirt and that pink blouse. And don't order the soup, you're going to spill it all over the place and on your new outfit!
"Thanks for the future update! Where's Jacob?" He was the voice I needed to hear. He was usually around at night with everyone. But that's when people looked at us like we were soul mates. Ugh!
"He's not here. He told us he was going to his house for the night." my dad said like he was disappointed.
"Oh. I have to go. Bedtime for the hamp(that's what Uncle Emmett calls me!)
There was a chorus of goodbyes and I love you's, but none from the person I wanted to hear it from. I hung up and climbed into bed. Sam and Emma were already asleep. I fell asleep thinking of Jacob's face again and how much I wish everything would work out. And I dreamed mostly of his face when I left, and I knew I cried in my sleep.
Information
Author

Rating

Reviews

116

Words

16517

Views

1

Published

14 Mar 09

Updated

19 Jun 10

Status

Complete
Categories