Text Size Large SizeMedium SizeSmall Size    Color Scheme Black SchemeWhite SchemeGrey SchemePaper Scheme        
Full Moon
Summary:
Nessie leaves to go to a boarding school in England and leaves Jacob behind so she can have some space. But what happens when she realizes that she loves him? *Rated teen just in case!* **Thank you MRSBellaCullenBlack for this beautiful banner! You totally rock!**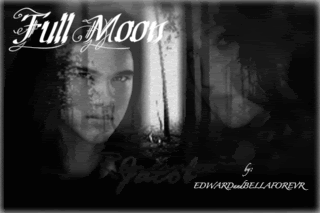 ---
Notes:

---
4. Realization
Rating 5/5   Word Count 519   Review this Chapter
Full Moon-Nessie-Part 4
Sam and Emma were both on the volleyball team, so I had a couple of hours to myself. This was when I usually called my parents, but I decided to do something else. My family didn't know I packed the family scrapbook. I decided to look through it and it would make me feel better seeing my family. I opened it up and saw my parents' wedding pictures. They looked so different from each other. How would people not know my father was different? I turned the pages. There were pages for my first day of school, when I lost my first tooth, and my daily fashion show pictures hosted by Aunt Rose and Aunt Alice. I saw pictures with me and Grandma and Grandpa, me trying to wrestle Uncle Emmett (which was impossible,) and Uncle Jasper posing with me as a baby. He looked cautious, but he also looked fairly relaxed. The next one hit me in the heart. It was a picture of me and Jake. What cut my heart was his eyes. His gorgeous black eyes. They were telling me, "I love you Nessie! I love you with all my heart! Do you love me back?"
I had tears streaming down my face when I realized I loved him, too. I continued repeating, "I love you to Jake! I love you so much!" Why couldn't he be here! I just want to tell him what he truly means to me. I knew if and when I went back, I would admit to Jake that I loved him. I didn't even feel like I should finish school. I was debating whether or not to go back home before school was over when Sam and Emma get back. In a quick moment, I had the scrapbook back in it's original place right as Sam and Emma came into the bedroom. They were talking and laughing about someone getting hit in the head with a volleyball.
"What's wrong, Nessie? You are crying really hard. What happened? Please tell us!" Sam asked. She was the most caring of the two of them. She reminded me of my mom's friend Angela. Sam was caring, sweet, and wouldn't hurt a fly.
"Nessie! What's up girl? You okay? Tell us what's up?" Emma was more of the loud one, but she was still sweet, just not as much as Sam.
"I left a very, very important person behind at home. He probably won't talk to me ever again! And I love him!" I sobbed.
"Do you think he loves you back?" Sam asked.
"Most definitely." I answered. I knew that for certain.
"Then he will continue to love you! If you are certain he loves you and you love him, he will still love you!" Emma shouted.
I agreed with them finally. I could tell they didn't like to see me like this. When I finally did, it was close to 11. I thanked them for their help, and I climbed into bed. I dreamed of Jacob's face, but this time I didn't cry. I was in peace, and I couldn't wait to return home to see Jake.
Information
Author

Rating

Reviews

116

Words

16517

Views

1

Published

14 Mar 09

Updated

19 Jun 10

Status

Complete
Categories