Text Size Large SizeMedium SizeSmall Size    Color Scheme Black SchemeWhite SchemeGrey SchemePaper Scheme        
Full Moon
Summary:
Nessie leaves to go to a boarding school in England and leaves Jacob behind so she can have some space. But what happens when she realizes that she loves him? *Rated teen just in case!* **Thank you MRSBellaCullenBlack for this beautiful banner! You totally rock!**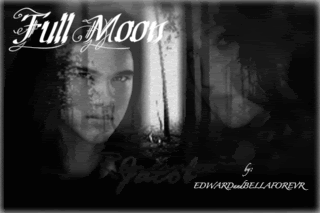 ---
Notes:

---
7. Home
Rating 5/5   Word Count 538   Review this Chapter
Full Moon- Part 7-Nessie
"I am really going to miss this place," I told my one and only love.
"You mean you would rather be here than with me?"
"No! It's just…" I stopped when I saw he was laughing. He was joking.
We got our stuff in a car and then we drove off to the airport to go back to Forks. Sam and Emma were disappointed that I was leaving. We were like sisters, and I promised we would keep in touch. I would rather be with Jake than with anybody else. Jake had explained imprinting during the dance. I just was a whole bunch of emotions when he told me. Scared, nervous, mad, happy, excited, and a lot more.
We were on the plane when his phone rang. We were still on the ground, so we picked it up. Of course it was Alice.
"Where are you guys?" she asked, and a little worried.
"We're on the way home. Just calm down."
We told what plane we were on, she asked me if I liked Jake's entrance, and a lot more, but the flight attendant gave us glares. Phones weren't allowed at this altitude.
"We'll be there soon, Alice! We have to get off the phone or else the flight attendant's glare might burn a hole in my new shirt!"
"We can't have that, now, can we?"
She hung up and I snuggled closer to Jake. I closed my eyes and fell asleep.
I awoke when Jake was shaking me. He told me we were home. We got off the plane and immediately saw my family. It was great to see my family!
As I hugged everyone, I noticed Jake never let go of my hand. And I didn't mind. When I hugged Grandma Esme, it looked like she could cry tears of joy when she saw me and Jake.
When I got Aunt Rosalie, she gave me a big hug. She wasn't usually like this; she was mainly the one who doesn't hug and just focuses on her hair. What she said next was very surprising.
"Come here and give me a hug, Jake!" I stared in shock when she said this!
I saw Jake's hesitation. He was sure when he gave her a hug, she'll trick him.
"You aren't scared of my "cooties" are you Jake?" With that he decided to give her a hug. When he pulled back, I could see her embarrassment after having her emotions get the best of her.
We decided to go home. Everyone but Aunt Rosalie was going in Uncle Emmett's car. Aunt Rosalie was driving Jake's car back home.
"She's not going to wreck it, is she?" Jake asked my dad.
"The thing that she loves just as much as herself is cars." That was true. She LOVES cars.
I showed Grandma all the pretty buildings I saw while I was there. I could tell that was where she would be going next.
My mom bombarded with a million questions. Mainly about my health. I told her I was fine.
Aunt Alice asked if we needed to go shopping soon, and I answered with a loud "NO!" That got everyone laughing.
When we pulled up to the house, I felt relief. I was here with my family and my one true love and my life was perfect.
Information
Author

Rating

Reviews

116

Words

16517

Views

1

Published

14 Mar 09

Updated

19 Jun 10

Status

Complete
Categories