Text Size Large SizeMedium SizeSmall Size    Color Scheme Black SchemeWhite SchemeGrey SchemePaper Scheme        
Full Moon
Summary:
Nessie leaves to go to a boarding school in England and leaves Jacob behind so she can have some space. But what happens when she realizes that she loves him? *Rated teen just in case!* **Thank you MRSBellaCullenBlack for this beautiful banner! You totally rock!**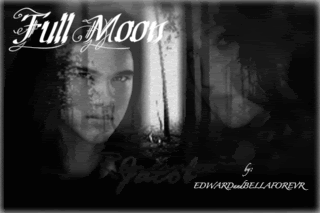 ---
Notes:

---
9. Permission
Rating 4.5/5   Word Count 532   Review this Chapter
I woke up the next morning with a big smile on my face. Last night's events flashed back as I looked at the ring. Watching Jacob sleep was heaven. He looked so peaceful, like he was in heaven. I looked at the clock. It read 8:30 A.M.. I would let Jacob sleep for another hour, and then we had to break the news to my parents. I knew what they were going to say, and he probably did, but I stilled teased him about it.
"They're going to say no," I teased.
"Yeah. Go ahead and make me even more nervous!" he gulped nervously. He ought to know what they're going to say.
"Calm down! They're going to say yes! And, if for any reason they say no, then we will sneak off to Vegas and elope," I tried to calm him down, but it didn't work to well.
"Come on, scaredy-cat! You'll be fine!" I muttered.
I was finally able to drag him out of the house. A kiss works miracles.
"Don't think about it! Start singing your ABC's! Keep him out of your head! Let it be a surprise!" I really hoped he listened to me. I quickly took off the ring and placed it in my pocket.
I started singing my favorite songs. Pretty soon we came upon my parents. Dad was probably wondering why Jake was singing his ABC's. To be honest, he forgets his ABC's, and he doesn't have a great singing voice.
"Jake. Nessie. What's up?" Daddy asked. He started to look worried.
"Well, last night...," Jake trailed off. I could see Dad start to glare at Jake. Dad did not think that, did he?!
"It's not that Dad!" I thought. I could see Dad start to relax.
"Then what's up?! And Jake, stop singing your ABC's! We all know you ought to know them!" Dad needs to take anger management classes.
"Well, last night I sort of proposed to Nessie. She said yes. I came here for your blessing," Jake said fat and nervously.
Dad chuckled. "All that for nothing? I'm not going to bite!
"Tell that to any mountain lions you come across!" Jake teased. That got us all cracking up. I sometimes thought Jake should be a clown. He can always get you cheered up.
Momma looked like she would be crying if she could. And of course, Dad said yes. I'll have to tease Jake about that for about everyday for about forever.
Mom and Dad had to go hunt. We left them and started to talk about the wedding. We had to let Alice plan it, or else I might not see the light of day tomorrow. And if we use her to plan it, then everything would be taken care of. I chose Alice to be my wedding planner. We still have to ask her, but we all know what she's going to say.
Alice greeted us at the door. She looked like she had downed 20 energy drinks and ate a ton of candy. She was jumping up and down.
What had I gotten myself into?
Information
Author

Rating

Reviews

116

Words

16517

Views

1

Published

14 Mar 09

Updated

19 Jun 10

Status

Complete
Categories