Text Size Large SizeMedium SizeSmall Size    Color Scheme Black SchemeWhite SchemeGrey SchemePaper Scheme        
Concrete Angel
Summary:
Edward has known Bella since they were twelve years old. So what's happened to make Edward so sad. Warning: Depressing and contains abuse. One-Shot.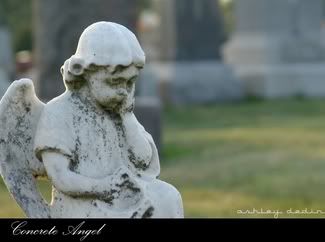 ---
Notes:
This is a rather depressing story, listen to the song Concrete Angel by Martina McBride for the full effect.
---
1. Concrete Angel
Rating 5/5   Word Count 979   Review this Chapter
She walks to school with the lunch she packed
Nobody knows what she's holdin' back
Wearin' the same dress she wore yesterday
She hides the bruises with linen and lace

The teacher wonders but she doesn't ask
It's hard to see the pain behind the mask
Bearing the burden of a secret storm
Sometimes she wishes she was never born

Through the wind and the rain
She stands hard as a stone
In a world that she can't rise above
But her dreams give her wings
And she flies to a place where she's loved
Concrete angel
It'd been four years and I still miss her everyday. Bella Swan had been my very best friend, when we twelve. I had met her at the park, one day. She was just sitting there on the swings all by herself. So I went and talked to her. It turned out the she lived next to me. I couldn't believe I'd never notice.
She was funny, sweet, cute, and ended up being my first crush. We talked everyday for the next year, she even came to my twelfth birthday party even though it was all boys. She was always really happy wearing bright clothes and laughing. Which was why I didn't put it together when I first saw the hand shaped bruise.
I didn't figure it out for months, and even then I didn't know for sure. I saw her running out of her house and into the forest behind our houses. I'd followed her worried. It was the first time I saw the meadow. It was and still is the most beautiful place in the world, and I will never show any one it. It would always be Bella's and mine place.
She wasn't angry when I told her I followed her, she said she always wanted to show me this place anyway. I asked her why she was crying, but she wouldn't say. I thought back to the bruise but I didn't connect it yet again.
We went on like that for months, going to the meadow, being best friends. Occasionally I'd see another bruise but I thought that her Mom had maybe caught her as she fell down the stairs, with Bella it could've been anything.
Somebody cries in the middle of the night
The neighbors hear, but they turn out the lights
A fragile soul caught in the hands of fate
When morning comes it'll be too late

Through the wind and the rain
She stands hard as a stone
In a world that she can't rise above
But her dreams give her wings
And she flies to a place where she's loved
Concrete angel
A month before my thirteenth birthday everything went wrong. I woke up to screaming. I looked at the Swan's house to see the light on. Maybe Ms. Swan is watching a movie. I thought. But I'd heard those screams before I just didn't know where.
I went back to bed and tried to fall asleep. As soon as my head hit the pillow, I realized where I heard the screams before. Four months ago Bella had broken her arm, in the park while we were on the swings. I jumped out of bed and rushed down stairs to see my parents watching a horror, movie.
"Mom, Dad, Bella's screaming we have to go over there." I said running up to my dad and grabbing his arm pulling him out of his seat.
"Calm down Edward, It only the movie." Mom said muting it to make a point. A second later Bella screamed again. My parents rushed into action Dad going next door, and my Mom calling the police. I sat on the couch crying, worried for my best friend.
My Mom and I went to the road and watched Dad carrying Bella out of her house and into the ambulance that came a minute before. They drove off . Me and my Mom went back into our house and sat on the couch crying. Mom had seen Bella as a daughter. She'd loved her too.
I sat there and cried until my Dad came home shaking his head. I turned numb. Unfeeling. I didn't even cry anymore.
A week later I was at Bella's funeral. This time I did cry. I hadn't cried since the night she'd died. I listened as the minister droned on about people being taken before there time. Bella wouldn't have liked that. She always said that everything happens for a reason, even if we can't see it.
Out of the corner of my eye I saw Bella wearing her favourite tie dye shirt, and half smiling half frowning, at the congregation assembled to pay there respects.
I turned to face her and she was gone.
Since then I dreamed of her every night. Not nightmares, just dreams. Every night we'd just sit in our meadow together, sometimes talking sometimes not. She grew with me. Appearing fourteen, when I was, sixteen when I was. But always wearing the same tie dyed shirt. Last night would probably be the last dream, I thought, sad. She told me that I needed to move on. It was fine to miss her but I needed to stop living in the past, or in my dreams. "Do what you want to, live in the moment. Sometimes it ends too soon," were her exact words.
I noticed a group of people on the other side of the cafeteria. The Hales and the Brandons. One girl was smiling at me sadly. Alice, another old friend of Bella's. Maybe Bella was right.

A statue stands in a shaded place
An angel girl with an upturned face
A name is written on a polished rock
A broken heart that the world forgot

Through the wind and the rain
She stands hard as a stone
In a world that she can't rise above
But her dreams give her wings
And she flies to a place where she's loved
Concrete angel

Information
Author

Rating

Reviews

11

Words

979

Views

1

Published

16 Apr 09

Updated

16 Apr 09

Status

Complete
Categories