Text Size Large SizeMedium SizeSmall Size    Color Scheme Black SchemeWhite SchemeGrey SchemePaper Scheme        
Before I Die
Summary: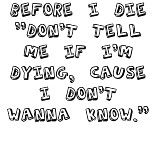 Edward has cancer. He knows that he'll die soon, and before that happens, he wants to have fun with his life. He doesn't want to find love, but as he has 'fun', he meets a girl, named Bella. AH AU BxE
---
Notes:

---
13. Chapter 13
Rating 5/5   Word Count 1545   Review this Chapter
Edward
I glanced at the wall clock nervously for the fifth time today. It seemed that the hand never moved, only the ticking filled the air with its sound.
"Ugh." I groaned. Emmett came walking into my room, am I never alone in this house?
"Hey bro." Emmett greeted.
"Hey."
"So listen. Tell Bella to bring her girl friends with her." Emmett grinned.
I made a face. "Why?"
"Just 'cuz." He shrugged.
I rolled my eyes, I finally got what he meant. "You are not going to hook up with my date's friends." I said.
Emmett chuckled and left my room without saying another word. I snuck a peak at the clock again, and I was glad that it was quarter to twelve. I pulled out my cellphone from my pocket and looked up the number Bella gave me yesterday.
"Hello?" She greeted, her voice was so soft, kind of angelic.
"Hi Bella." I greeted.
"Edward!" she exclaimed, her tone was a mixture of excitement, joy, and surprise.
I chuckled at her excitement before I continued. "Would you like me to pick you up?" I asked.
"Yes, if you don't mind." She said quickly.
I laughed again and asked what her address was. I found out that she lived in the worst part of town. I frowned at the thought that Bella could get easily mugged if she weren't careful. I grabbed Esme's car keys from the counter and ran to the car in the garage. In a matter of minuted, I was parked in front of Bella's apartment. The scene around me looked exactly like the movies. A trash can was spewing out fire and a few people were warming there hands over it. I shuddered at how real everything looked. I got out of the car, and rang the doorbell.
"Yes?" A lady said, she sounded pretty bored.
"Uh yes, what number is Bella Swan's room?"
"Hold on suga." there was a slight pause. "260." She said before a buzzing sound rang in my ears. I opened the door and stepped inside, the hallway was a pure white color, very plain, very boring. I took the elevator up to room 260 and knocked on the door when I got there. The door opened slowly, and a brown eye peered into the hallway.
"Hello." I said slowly. The door slammed shut, I turned around thinking this was the wrong room.
"Bella! Edward is here!" Someone screamed , the door opened again, revealing a small girl. She looked like a little kid, but somehow her features were matured.
"Hi, I'm Alice." She greeted sticking out her little hand.
"Edward." I said curtly.
"Yeah, I know." She said in one breath. Bella came running to the front door, she was putting on her shoe when she arrived. When she looked up and saw me, she blushed. It was such a beautiful color on her.
"Hi." she said quietly.
"Hi, ready to go?" I asked politely.
"Yes."
"One more thing, if you don't mind, but my brother asked to bring your friends along. You don't have to, but he would appreciate that." I said.
Alice smiled, the corners of her mouth reached her ears.
"Be right back." she said quickly.
Bella laughed. "Why do they have to come?" she asked.
"I think my brothers wants a girlfriend." I whispered.
Bella's eyes widened. "Brothers huh...? Well Edward, they will have a girlfriend in no time." She grinned.
Alice came back, dragging a beautiful tall blond girl with her.
"Hi, I'm Rosalie. You must be Edgar—Edward, Bellas been talking non-stop about you." She said.
Bella shot a death glare at Rosalie, but I just laughed at the thought.
"Is that so?"
Bella laughed nervously. "Lets go." She said, already stopping her fake laugh. I lead the way to Esme's car, Rosalie and Alice trailing behind us. They were whispering something to each other, but I couldn't really make out what they were saying. I opened the front door for Bella and held it there for her friends to get through.
"First stop, is my house." I said giving my best apologetic look to Bella.
She looked confused. "Why?"
"My Mom wanted to meet you."
Someone snorted from the back, I was guessing that it was Rosalie.
Bella smiled nervously. "Don't men usually wait until the third date to show their girlfriends to their parents?"
"Actually its just my Mom, but if you want to wait..." I trailed off, she got the point.
"No, its fine. I want to meet her too." Bella retorted quickly.
I started the car, bringing it back to life. The radio turned on automatically and it started to play one of my favorite CDs.
"Clair De Lune?" Bella asked shocked. I shot a sideways glance, impressive.
"Yeah." I said before I turning adverting my eyes back to the road.
Bella didn't say anything for the rest of the ride, neither did her two friends. Though I thought I heard some whispering coming from Alice and Rosalie. I parked in front of my house, and killed the engine.
"Wow, beautiful house." Bella commented.
"Thanks, my Mom, Esme, designed it."
"Tell her she has wonderful taste." Alice chimed.
"Tell her yourself." I said, walking through the front doors.
"Mom?" I called out. Esme poked her head out of the kitchen and her eyes widened in surprise.
"You must be Bella." She said, walking toward Alice giving her a hug.
Alice laughed.
"Actually shes Bella." Alice corrected pointing to her. Esme blushed, and gave Bella a hug.
"Sorry." Esme said sheepishly.
Bella hugged Esme back and blushed too. "Its okay."
Esme pulled away and looked at Bella closely head to toe. She nodded appreciatively.
"Good choice Edward." Esme said.
"Mom." I whined.
Bella blushed again, Rosalie started to snicker and Alice was staring at our furniture.
"Well off you go." Esme said with a sigh.
"Wait a sec. Emmett! Jasper!" I yelled.
Jasper was the first to come greet us, he didn't even look twice before he noticed Alice.
"Hi." Jasper said, almost dreamily.
Alice smiled.
"Hello." She said, even her voice sounded pixie like.
Then there was thumping, and then a loud, "Oh sexy!" Emmett was here.
I rolled my eyes, and looked at Rosalie apologetically. She didn't seem to mind that my brother just called her sexy.
"Rosalie." She purred.
"Emmett." He purred back, I guess he was trying to flirt.
Esme started to laugh. "Have fun." She said, then started to walk back to the kitchen.
"So are we all going to the pier?" Bella questioned.
"Uh huh." Jasper, Emmett, Alice, Rosalie replied in unison. They couldn't take their eyes off of each other.
I chuckled.
"We can't all fit in one car." I said logically.
"Then you and Bella take Esme's car, and we will take my jeep." Emmett gestured to the four of them.
"Deal." We all said, kind of creepy how it sounded, the mixture of all our voices combined sounded so weird.
***
At the pier, the smell of fresh water invaded your nose. Mix a little of salt and smelly fish, and thats exactly what it smells like.
"Blech." Bella scrunched up her nose.
I looked at her. "What?"
"It smells really bad." She laughed.
"Well, its nature, and everything about nature is beautiful." I explained.
Bella smiled. "Wow, that was so...deep." She whispered.
I looked around.
"Have you seen Emmett and Jasper?" I asked.
"No, have you seen Alice and Rosalie?" Bella questioned, looking around as well.
"Its been fifteen minutes, it shouldn't take them this long to meet us here."
"I guess they ditched us. God knows what they're doing now." Bella said.
We both shuddered at the thought.
"Sushi?" I offered.
"I'll be delighted." Bella grinned. We started to walk back to the Sushi Shack, the sun beamed down on our backs, making it feel like I was in an oven.
"So, tell me more about yourself." I said.
"Okay, well I major in English and Writing. I'm an only child and I can be clumsy at times." She said with a shrug.
I looked at her, waiting for her to continue.
Bella took a deep breath. "My birthday is on September 8, I'm 19 right now. My favorite color is brown-"
"Brown? Why brown?" I questioned.
"Because, its just makes me feel at home." She said simply.
"Okay," I gestured for her to continue.
"I hate surprises, and gifts. I believe in miracles, my Mom thinks I'm crazy because she says that it doesn't exist." she paused to laugh. "And I'm kind of superstitious. Thats about it, your turn."
I debated on whether or not I should tell her that I have cancer. I decided on not telling her, yet.
"My father, was killed in a car crash. So my Mom had to raise us by herself."
"I'm so sorry." Bella said, she put her hand on arm.
"My favorite color is blue, and my birthday is in June. I am also 19."
"What college do you go to?" She asked.
"I don't go to college."
"Why not?" She questioned.
Either I changed the subject or tell her I have cancer.
"Look lets order some food." I said, pointing to the menu the waiter was handing us.
Chapters
Information
Author

Rating

Reviews

109

Words

22139

Views

1

Published

10 May 09

Updated

12 Mar 10

Status

In Progress
Categories