Text Size Large SizeMedium SizeSmall Size    Color Scheme Black SchemeWhite SchemeGrey SchemePaper Scheme        
Amnesia
Summary:
Sometimes you use your dreams--your fantasies--to escape reality. But what if all you had left was a new fantasy? One so surreal that it could not possibly be true. Too fantastic, too unimaginable, too terrifying for it not to be all just a dream?
And that's whats really scary. Because you can't tell the difference.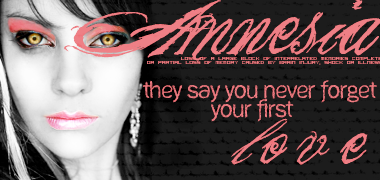 ---
Notes:

---
2. Simple, Sunny Days
Rating 5/5   Word Count 4013   Review this Chapter
Amnesia
Bella Swan was bored.
Boredom was, in fact, a state of mind. Boredom often referred to a lack of positive (sometimes even negative) stimulation, and usually occurred in impatient people.
However, Bella Swan was an exceedingly patient person. Even to the point of being eerie at times.
That was… until she met Edward Cullen. Now, she found it next to impossible to be out of his sight for more than a few minutes without suffering from a serious case of withdrawal, falling into near hysterics or being lulled into an odd sense of… nothingness. Boredom.
Edward had finally—albeit grudgingly—agreed to go hunting. His eyes had remained a dark ocher color far too long, and even Carlisle was getting slightly apprehensive. So using his "fatherly authority," he had finally persuaded Edward to accompany the family on the tri-monthly trip to Mt. Rainier – hence the reason why Bella was suffering from a complete lack of stimulation.
Her life had clearly become Pre-Edward and Post-Edward – or, in this case, During-Edward. She could think of little else that kept her really occupied outside of her beloved vampire boyfriend, save reading. And reading definitely wasn't an option at that particular moment. Unfortunately, her favorite author, Jane Austen, not to mention all of her other favorite works, reminded her of the currently absent love of her life.
Bella flopped back on her bed, her mahogany hair splaying out across the flowered comforter. She closed her eyes and clenched her fists, almost like trying to suppress inner shudders of frustration. This was absolutely impossible!
"Fine," she muttered angrily, while sweeping herself off the bed – only to fall hard on her knees onto the floor. She pushed herself up to a sitting position and examined the damage. "Oww." Her knees were pulsing uncomfortably and a small hole was beginning in the knee of her jeans. "Grreeaat," she sarcastically groaned, while blowing strands of hair out of her heart-shaped face.
Reseignedly, she released a heavy sigh and glanced down at her watch. Again. She was half-hoping that the time would have significantly changed from the last time she checked. Nope. It was only 2:15. Edward wouldn't be home until six.
As she took another look at her throbbing knee, Bella realized that she was actually sitting in a patch of sunlight. It was glowing light and white around her room, a sight that was rarely present in Forks, even in the summer months. , even toward the summer, in Forks.
Ah, the sun. Another reason Edward had to go hunting today. Sunlight would just mean that he and his family had to remain indoors all day, and none of them particularly enjoyed that. They all loved the warm inviting rays, too, despite the social out-casting they receive because of its presence.
But the ample sunshine brought new possibilities for her. It was hard not to be cheerful when sublime radiance was staring you in the face, almost begging you to smile.
She had a startlingly brilliant idea. If she had to be physically removed from Edward, then she would go to the one place where it felt as if he was always there – where his presence never really left. The meadow.
She hadn't been to the meadow since her solo-excursion just a short month ago. To her, it had been almost dead then, a vacant gravesite of a life she once knew and cherished. But that meadow always held surprises. That was where she had her first glimpse of Jake's pack, after all. And even though the expedition didn't exactly go according to plan (almost becoming Laurent's lunch was a major factor), she was glad that she had gone. To her, it proved that her cherished memories were not just a dream, that she hadn't just imagined all of the blissful happiness.
Jake. Things still weren't good with him. She had phoned nearly every night after Edward was bid a stiff, albeit polite, adieu by Charlie promptly at nine o'clock. When he "departed for the evening," Bella knew she had about fifteen minutes to call before her boyfriend would be lying on her bed, with his hands behind his head, smiling mischievously at her. And as expected, Billy had answered every time, not even bothering to say that Jake wasn't home anymore.
He still doesn't want to talk to you, Bella. I'm sorry.
It infuriated her to no end!
It had been immeasurably devastating to lose the love of her life. But losing her best friend left a hole in her heart too… one that even Edward couldn't fill. One's heart could only be mangled a certain number of times before the holes were too big to fix.
Fortunately, the sunlight would not allow her mood to dampen. It continued to shine in her face until she realized that her brilliant plan-making wasn't over yet. Yes, she would go to the meadow, but she would take a short detour through La Push first….
………………………………………………………………………………………………………………………………………………………………………………………………………………
Everyone was having fun, even Edward. Though most of the time he preferred to sulk around, mooning over the fact that he was still 102.59 miles away from Bella at that very moment.
But Jasper had challenged Edward to their favorite game—how many of Mt. Rainier's predators they could sneak up upon and attack in complete silence. Emmett had wanted to play herd-'em-up-as-fast-as-you-can, but Carlisle disapproved of that particular game. He, in all his never-ending compassion, didn't think it was right to prolong the suffering of the animal before feeding.

So Emmett reluctantly threw himself into Jasper and Edward's game. He, of course, had a significantly harder time of it. Stealth just wasn't as much fun, and his patience would always wear thin. So, he would simply end up scaring an animal into flight, and began the chase. Jasper preferred the quiet finesse of the stealth approach, and today Edward was all too happy to play along.
The others, however, decided not to join in on the fun. Rosalie was too worried that something might happen to her new Coco Chanel halter if she were to traipse in the underbrush, while Carlisle and Esme preferred to leave the hunting games to their "children." Normally, Alice didn't mind joining the boys, but her thirst wasn't to the point where she needed to hunt yet. She had gone with Jasper not four days ago, because they wanted to test his strength further and went to the movies. The extra nourishment was an added precaution, since he would be in such close quarters with humans for over two hours.
So instead, she sat in a secluded clearing with Rose, who was openly admiring the fact that her flawless hand sparkled more than the five carat diamond solitaire on her left ring finger. Unable to keep from laughing over the narcissistic display, she chirped, "At least, we can soak up the sun and not worry about anyone seeing us!"
"That's true, I suppose," Rosalie sighed before absently flipping her long flaxen hair over her shoulder. She took a casual glance over at Alice, and daintily picked a blade of grass off of Alice's shoulder.
"But, I wish they would hurry," she then complained, admiring the look of her own recently bared skin. "I do have other things to do, you know!"
"Oh I'm sure you do," Alice sarcastically replied, shaking her head. Rose was Rose, and that wasn't ever going to change.
It was a nice day, beautiful even, but at the same time she loathed it. No, she couldn't really say that either, because she only wished that she could go somewhere public without having the humans run away crying and screaming. Go to a beach maybe, she thought, closing her eyes and smiling whimsically. What would a sunburn feel like anyway? Of course, she couldn't actually get one, but it was fun to wonder. Then she considered how much fun it would be if she could get Bella to go with her and wear a tiny bikini. Oh yeah… that would be fun! She could see Bella's cherry red blush already!
"I wonder what Bella's doing…," Alice muttered to herself, deciding to see if she could take a peek into what her best friend's afternoon was like. As she opened her mind, she vaguely heard Rose's small sigh. The sound was almost… jealous, but she didn't have time to dwell on it. She was already phasing into a dreamlike state and if she were to question it now, she might lose the vision. And it was coming on hard.

At first, it seemed innocent enough – just Bella driving down a winding, foresty road, absently humming along to a catchy tune. Then it started flickering, as if bits and pieces of it were purposely cut away. It was confusing, flashes of black, white, and silver, enveloped her mind. Vehicles, at least she saw those, and it appeared as if they were moving closer together….
But before she could decipher anything else, the entire scene exploded with the horrific sound of screeching tires prior to everything going horribly blank.
"Edddwwwaaard!" she screamed both mentally and verbally.
……………………………………………………………………………………………………………………………………………………………………………………………………………
Edward had persuaded Bella to let him temporarily bequeath his silver Volvo to her while he was on Mt. Rainier. He claimed it was because he was afraid that sometime, in the near future, her truck would just break down on the highway and then she'd be stuck. Though, he put it in much more descriptive, choice words. He didn't think her truck in the least bit safe! So one evening, while she was at work, he persuaded Rosalie to take it to her garage to tinker with it. After all, he knew she would drive it anyway, just to spite him.
That boy was always one step ahead….
Bella hid her admiration of the silvery piece of machinery when she slipped into the driver's seat. Then after turning the key in the ignition, she pretended to ignore that the purr of the engine was much more comforting than that of her beastly truck.
My truck has character. It's durable and I like it. And next time I won't let him trick me, she thought while pulling out of the parking spot in front of her house.
Out of habit, she reached over and flicked the power button of the stereo to on. Instantly, a sweet, jazzy tune came twinkling out of the speakers. She wasn't quite in the mood for such a mellow song, especially since the lovely piano piece was another painful reminder that her beloved was simply too far away. So with nimble (for once) fingers, she absently flipped through the radio stations until she found something a little more heart pumping, one that accentuated her mood. No, there really wasn't anything better than good old rock-n-roll!
………………………………………………………………………………………………………………………………………………………………………………………………………………
Curse you, Jacob Black. Why did you have to pick now of all times to go visit Bella Swan?
Paul swore loudly in his mind, hunching over the wheel of the large white truck he was currently driving. The cab clearly wasn't big enough to fit his ever growing frame. Embry and Quil were in the back seat, arguing about some insignificant detail of the one-on-one basketball game they'd held earlier that morning, and the sound of it was giving Paul a migraine. Not to mention the added tension from the return of the leeches was taking its toll on all of them. It was enough to make anyone's blood boil, and in his case, it literally was!
He was still pissed off at Jake for breaking their plans to go and check on his 'girlfriend.' Poor guy. He felt almost sorry for his friend. But when Bella had chosen the bloodsuckers over them, Paul took it very hard, almost as hard as Jake. He was not very forgiving when it came to betrayal, and choosing a bunch of bloodsuckers over the pack was the highest form of betrayal, in his opinion. Now they couldn't associate with her. She belonged to the leeches.
The heat of the gas pedal was beginning to burn Paul's bare foot. He looked down despondently, staring at his foot and wishing, yet again, that he could wear suitable clothing. Much less afford it.
But of course… the bloodsuckers have all sorts of money. I bet that's why Bella chose them over us. They can afford nice clothes, and fancy, shiny cars. Paul sulked acidly, though deep down he knew that he was just feeling sorry for himself. But then again, what was it with vampires and their odd fetish for all things shiny?
Then, ironically, he saw it. Shiny and silvery. A luxury sedan, with its sleek steel frame, torque-d engine with ample horsepower, and luxurious tinted windows, cruising across the dirt-paved road toward them, a few hundred feet away. It was a startlingly familiar silver Volvo.
Edward Cullen's startlingly familiar silver Volvo.
Wait! What the hell was he doing on Quileute territory? Was he so dim that he forgot if he crossed the borderline, the ever-so-significant treaty was broken?
Wait, the treaty!
Cullen had broken the treaty! It had begun – the war. The face-off had finally come. Werewolves verses vampires.
"I should go tell Sam," he growled silently. Quil and Embry were too far gone in their conversation to realize the significance of the moment. Nor would he enlighten them, since he knew what their suggestion would be. Destroy the cold-one! No, he would go to Sam. He would know what to do about this suicidal leech, what the best plan of action would be. If Cullen wanted a war, then a war he would get.
But at the same time, he didn't want to just leave it all up to Sam. He wanted the trespasser to suffer. He wanted to take out all of his anger on that leech for everything they had put him through. The tension. The boundaries. The transformation.
Oh how his transformation was burned into his mind.
It was like a scorching hand had gripped his memories and wouldn't relinquish its hold. Pain… the most significant memory was of the feeling of absolute pain.
And he wanted Cullen to feel excruciating pain.
His fury was telling him to settle it now, but his head was telling him to talk to Sam. He couldn't do anything rash. He needed wait for Sam.
But his fury must not have been listening to the reason of his head. Almost against his will, the wheel seemed to jerk itself out of his hands and to the left just as Cullen's car was about to pass him on the opposite side of the road. As if in a dream, he watched his truck plowing to the center of the road, now facing Cullen's car. Inches away from contact, mere moments before impact, Paul could feel his blood boil hotter than ever, both fear and panic gripping him. He only prayed that it would be over soon.
……………………………………………………………………………………………………………………………………………………………………………………………………………
No, No, NO!
Alice's vision couldn't possibly be true, he thought desperately as waves of dread and anxiety washed over him like a monsoon. When he had thrown Rosalie's M3 into gear, Edward drew only the slightest satisfaction from the tires squealing in protest to the mounting speed. It was just like Phoenix. The same clawing fear, the loss, the fury ravaged at him, as well as the horrific feeling that he was going to be too late.
There she was, my angel's face, blood dripping out of a deep cut in her head down her radiant cheeks. She was limp, unmoving and unbreathing. Her heartbeat was slow and growing fainter.
The memory ripped at his insides. Too many feelings were coursing through his veins—he couldn't distinguish one from the other. Volatile. Unstable.
At the speed he was going, roughly 200 miles per hour (thank God Rose had chipped her car), he should reach La Push in a few more minutes. The one place – the only place – it was forbidden for his family to go. Thoughts of the treaty, and all its conditions were quickly mulled over in head, but, just a quickly, he cast it aside.
Screw the treaty.
If Bella was hurt, there wouldn't be a reason for any of them to stay in Forks anymore, and if she died…. Well, that was simple. He would go to Italy again or he would let the wolves have him. This time no one would stop him from ending his immortality.
He was glad that Emmett had the foresight to keep an extra long black sweater in the back seat, for sunny days such as this. Not even taking his eyes off the road, he reached behind him and, in one fluid motion, pulled the sweater over his head. The lightening-quick flash of darkness instantly reminded him of Alice's vision.
The vision wasn't too clear. It came to his sister in flashes – each fragment being separated by obscurity. He didn't even know how much time was left. The sensation of it ticking away was silently taunting him. It felt as if fate had finally beaten him – like he would not win this time. Only a mile away, on the clean stretch of road, and Edward swore he felt, yet again, his heart pounding soundlessly. He could almost feel the terrified thump-thump in his chest.
Thump-thump….
Then he saw it.
Thump-thump….
Two vehicles, one white, one silver, driving on opposite sides of the road.
Thump-thump, thump-thump, thump-thump….
He was too late.
………………………………………………………………………………………………………………………………………………………………………………………………………………
Bella was humming along to the music, for once a catchy tune she knew.
Don't worry, baby (Don't worry baby).
Everything will turn out alright.
As she drove a little further into La Push, she saw an oncoming truck, a large white one that had the mentality of a tank. A lot like her truck. It must have been one of the packs'! After all, it was Jacob's father who had given her the truck she had now. How funny! She absently wondered where they were going, and if Jacob was in there with them. It would figure that he would leave just as she was coming to see him.
But for some reason, she couldn't shake a sudden odd feeling of apprehension. It was clawing inside her and freezing her up. She jerked her head over to the white truck and stared incomprehensively. Why was she suddenly so scared?
I'll never forget you; you know I never can….
She did not even register the music that was playing as she inched closer to the truck. Bella kept her eyes trained on it, trying to see who it was behind the windshield, but unfortunately the sun was glinting just right in her eyes. The road had taken the slightest curve, and she was blinded by the brilliant light glinting off the windshield and scorching her. Everything was white.
Then it felt as if the world was collapsing upon itself. The ground seemed to shake and crumble. There were horrible screeching and grinding sounds that seemed to burst her eardrums. It suddenly occurred to her the world was spinning. Then it began to crush her. The air dissipated, like someone had punched her in the stomach. There was pain in the midst of the surrounding, splintering chaos that only she could feel. She registered there was something sharp prodding her in the head, but she could not tell what it was.
And almost as quickly as it had started, time stopped. The shaking, the air compressing, the scraping sensations, they just ceased. It was as if the explosion had frozen in place. Thoughts of Edward vaguely flashed through her mind. Edward's face… like her hallucinations begging her to hold on… never forget… never forget…
Never forget how much I love you….
The world was still filled with blinding white light. Then, within a span of a heartbeat, all she saw was black.
…………………………………………………………………………………………………….………………………………………………………………………………………………………
Thump-thump
It was getting closer and closer – the white truck. Suddenly, it swerved to the left just as his car passed. The crunch was horrific as the force of impact pushed the smaller vehicle off the side of the road. Edward watched in horror, as the truck screeched to a halt while the Volvo was sent spinning out of control. It was rotating, like a nightmarish merry-go-round, toward the forest lining the roadway before finally coming to a jolting stop as the driver side slammed into a tree.
Finally, all was still.
"Bella!" Edward roared, leaping out of the car and speeding toward the passenger side of the destroyed vehicle. The driver's side was crushed in nearly all the way and tightly pinned against the tree trunk.

Edward ran faster than he had ever run in his life. In a flash he was there, instantly ripping the door from its hinges before flinging it aside. There his breath choked when Bella's broken frame came into view. She was crumpled like a rag doll. The only thing keeping her semi-upright was the seatbelt, while her head was resting against the center console of the car. The airbags had all deployed, thank goodness, but what really worried him was the fact that several branches had pierced the windows, including a broken, splintering one that was partially resting on her lap. Without a second thought, Edward knelt on the seat and swept the debris aside with a quick brush of his hand.
Thankfully, there wasn't much blood, most of it coming from the small cuts and scrapes on her face and one nasty looking abrasion above her left ear. Though, he was fairly certain that even if it was gushing, the overpowering scent wouldn't have been the least bit distracting. However, she was most definitely unconscious, which worried him to no end. So, he put is two bouts of medical school to good use. Very quickly, he assessed her broken form, struggling to hold back a choking sob, before unbuckling the seatbelt and gently removing her from the car, making sure to keep her back as stable as possible.
Edward gently picked up Bella's frail frame. In the background he heard voices, and the minds belonging to them. He turned, a cold, hateful expression set on his perfect features, his eyes now a menacing obsidian, despite his recent feeding. He didn't even care that his hands and face were sparkling like diamonds. There was no reason to keep secrets here.
The wretched dogs were watching him incredulously, their eyes darting from his sparkling skin, to Bella's frail frame emerging from the car, to Edward's murderous face. They felt his wrath burn into them with those icy, cold eyes. If it weren't for Bella in his arms that very moment, he would have leapt upon them in an instant.
The face-off had come. Vampires verses werewolves.
Both parties stared at each other with the utmost hatred in their eyes, although those of Paul, Quil, and Embry held a deep sense of shock and confusion. But the blanket of tension was broken by a single, soft whimpering noise. Edward's head whipped down and his mesmerizing eyes were filled with something other than frozen rage; hope.
Bella's chocolate eyes flickered open.
Edward released a breath he hadn't realized he hadn't been holding, and searched her eyes carefully. "Bella…," he murmured softly, slipping his hand up just enough to gently brush her cheek. But her eyes troubled him. The chocolate, depthless pools held confusion as they looked him over slowly, carefully. Edward realized, with mounting horror, what was missing from her eyes – the light of recognition and joy whenever she looked upon his face.
Bella searched his face slowly, uncomprehendingly, and carefully she opened her lips to speak….
"Who are you?"
Chapters
Information
Author

Rating

Reviews

39

Words

6360

Views

1

Published

02 Jun 07

Updated

13 Mar 08

Status

In Progress
Categories