Text Size Large SizeMedium SizeSmall Size    Color Scheme Black SchemeWhite SchemeGrey SchemePaper Scheme        
The Forever Promise
Summary:
In Breaking Dawn, Jacob gave Renesmee a promise bracelet for Christmas. This is a story about how that decision came about and a more detailed look at the imprint from Jake's POV. *sweet and light*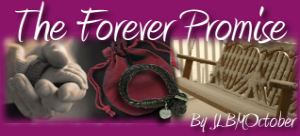 ---
Notes:
I do not own the Twilight Saga. I just love it so much that I wanted to spend some more time with the characters. No infringement is intended. Any dialogue from Breaking Dawn belongs to the wonderful author Stephenie Meyer. This is my first fanfic. It should be about 7 chapters total. Thanks to my Sarah for betaing. Thanks to my TTs and Ozzians as well as any readers. I appreciate your support on this fic.
---
1. What Do I Do Now?
Rating 5/5   Word Count 2561   Review this Chapter
Chapter 1: Crap, What Do I Do Now?
Song: Loreena McKennitt- Snow (Celtic Christmas)
It was nice to be constantly warm and for her to be, too. We were able to sit outside in the yard at night even during November, rocking back and forth in a porch swing that I had made for my little monster with Quil and Embry. She sat sideways in my lap with her head on my chest and her tiny hands in mine. I never imagined that I could love anyone this much.
To be honest, the fact that I imprinted on Renesmee was a little freaktacular. I mean, not only was she a baby, despite her growth the past 3 months, but she was Bella and Edward's daughter. Talk about God's having a sense of humor. My best buddy Quil was instrumental in helping me understand. I felt like a pedophile; it didn't matter that I had no romantic feelings at all for this little girl. Quil had his Claire, and he reassured me that our love for our little ones was completely honorable and true and would continue to be forever. Bella had come to accept it, too. Thank goodness because I would have been devastated if she and Edward had kept me away from my family.
Yes, they were my family now. I was held here forever by this pink-cheeked, curly haired beauty in my lap. I felt her stir and looked down at her. She smiled her big, toothy grin, placed a hand on my cheek, and pictures began to morph into words.
Jake, why do people give presents on Christmas? Everyone is talking about it inside, she thought through her special gift.
"Christmas is a holiday where families and friends celebrate being together. They give one another presents to show one another how much they care. I bet if you ask your Grandfather Carlisle, he can tell you all about baby Jesus and how people brought Him gifts when he was first born. I bet I know someone who might get some presents if she's a good girl…." I smirked at her. And just knowing your parents, *I* will never be able to give you a gift that matches up. I kept that part to myself.
ME?! Her eyes perked up. I love presents…especially ones from Momma, and Daddy, and Auntie Alice, and…. She ran through the entire family. She was spoiled rotten by all of them, and she appreciated everything she received.
I loved these moments. Despite her constant growth, she was still a child. With everything that was going on, our agonizing wait for the Volturi, it was so important to me that she have time for fun, too. Thankfully, Bella and Edward agreed with me.
I laughed and nodded my head, holding her tighter to me as she showed me the dress she wanted to wear on Christmas Day, one of the 8 billion Alice had brought home for her last night. She showed me a scene of what she wanted Christmas morning to look like: she was skipping around the living room with Alice, handing out big, outrageously wrapped boxes out to everyone. Then, her vision stopped, and I heard sniffles. I looked down in panic.
"Ness…what's wrong? Did I hurt you?" I picked her up and began examining her arms, legs, face. I heard a chuckle from nearby and looked over to see Daddy Vamp walking through the backyard with our buddy Seth. Clearly, he could hear her thoughts.
"She seems to be under the impression that you would rather spend your holiday with Billy and the pack instead of with her." Edward said matter-of-factly as Nessie looked at him with the most horrible looking pout I had ever seen. Even if I had wanted to spend the day at La Push, she would have effectively squashed that plan with one look.
Seth covered his mouth to stifle a giggle. It was clearly a "You're whipped, man…and she doesn't even know the half of how to work you yet! " laugh. Yeah, I knew it, too.
"Little does she know that we have arranged to spend the day with Grandpa Charlie and the pack at his house. HAHA!" Edward cackled as he knelt down next to the swing where he became level with her face.
She smiled a toothy grin as he reached out to touch her nose, wipe her tears, and plant a kiss on her forehead. He lingered there for a moment. I saw him smile against her skin.
"Of course, sweetheart…Momma and I will make sure that Auntie Rose is on her best behavior. It will be Christmas, after-all."
She smiled at him, and I felt her relax in my lap.
"Come on, Seth. I'm sure Esme has some nice leftovers for you in the fridge," Edward said as he patted Seth on the back.
"Awesome!" Seth pumped his fist in the air. "Are there any of those meatballs left? Those were delicious!" He walked through the front door and was greeted by Esme.
Edward laughed and stood up. He looked down at Nessie and me. "Don't ever say she doesn't love you, Mutt," Edward said as he messed my hair and glanced at his daughter. I smiled at him as he walked inside. I rocked back and forth with my Ness as we listened to Jasper playing his guitar inside with Bella and Alice. They were singing a beautiful Christmas song they had been practicing for weeks called Snowby Loreena McKennitt. I use the word "practice" loosely. Jasper's tenor and Alice's soprano weaved an intricate harmony around Bella's voice. Just another talent that those lucky vamps had…
We were alone again.
"Please don't be sad, Ness. I would have found a way to spend the day with you all if your parents hadn't made special plans like they did. You are my family, too!" I patted her head.
"I am going to make you the best present EVER, Jakie…you'll see!" She actually spoke out loud, something she rarely did. She reached both hands up to my face, squeezed it like she loved to do, and kissed my nose. She settled back onto my chest with a big yawn and within minutes was asleep, her face slightly flushed and her mouth open like a little 'o'. I stood up and carried her inside.
Bella saw us come in and sighed at me as I sat on the couch. I wasn't ready to let Ness go yet. I wondered what was wrong with Bella, but then she flashed me a smile that still melted my heart even though not in the same way as it had a few months ago.
"I love seeing you with her, Jake. It makes me so happy." Bella walked over and sat down next to us, putting her head on my shoulder. I put an arm around her shoulders and kissed the top of her head.
"What did you ask Santa for this year, Jake?" Emmett asked me as he ran down the stairs, wiggling his eyebrows up and down at me.
"Some deodorant, maybe?" And there she was, her disgustingly beautiful voice tainting the air. I was wondering when the Blonde would show her mug around here. It was too serene. Bella shot Rosalie a look as she sauntered over to a seat next to Alice on the arm of the chair.
"Haha, thanks, Blondie. I use AXE so I get all the women." I winked at her as Emmett laughed his booming laugh. He quickly ducked as his wife went to swat his head. Rosalie scowled. As much as she hated me, I loved her…just a little bit, because she was so important to Nessie. I'd never tell her that, though. Edward smirked at me as I thought that. You better keep your mouth shut…. He nodded and turned away. And, if I had anything to say about it, I'd be a part of the family for real soon.
Edward's smirk turned to a glare. "Jake….there is eternity for that." Edward spoke my name in a warning tone as he caught that last thought.
"Um, hi, I didn't mean NOW…I meant someday. Like, 80 years from now. How about that, Vamp-Daddy?"
Bella kissed me on the cheek, sniffed Nessie's hair, and walked over to tousle her husband's perfect bouffant as he rolled his eyes at me and cleared his throat.
"You know, Jake…I saw a vision of Bella and Edward talking about the gift that you are giving Ness for Christmas. It's beautiful!" Alice said casually, touching her temples, as she smirked at me.
"Crap, Shorty. I don't even know what I am getting Nessie yet. Give me a hint?" I pleaded. I knew that I had to get her something good. She had plans to make me the best present ever, according to her outburst outside.
"Well…it looked like something you made for her, actually. You know I can't see you making it…but I heard their conversation. I'm sure you'll think of it soon." Alice nodded knowingly.
I was in deep trouble.
xoxoxoxoxoxoxoxoxoxoxoxoxoxoxoxoxoxoxoxoxoxoxoxoxoxoxoxoxoxoxoxo
After putting Nessie down in her bed for the night, I phased so I could run faster. I had to get home and start thinking about this gift since Christmas was very soon. I heard animal feet behind me. I sniffed and smelled my good buddy Seth.
Man, what are you going to make her? he asked me.
Dude, I have no idea, I thought. All I know is that Alice thinks it's a great idea. I hope whatever it is will be enough for my little one.
I bet we can think of something, Seth assured me.
Thanks for the help, Seth. Go say hi to your mom and send Leah out on patrol. I think Quil is going with her. Keep everyone safe. I'll be at my dad's if you need me. Ever the Alpha, I wanted my brothers and sister to be careful.
No problem, Jakester. Tell Billy I said hi!
Tell your mom I said hi, too.
Will do.
I phased back to human form and watched Seth amble over to his house where there was a light still on in the kitchen. Sue was still awake, keeping a late vigil for her children, the pack, and the Cullens. I saw her throw open the door and embrace Seth as if he were a soldier coming home from the war. It made me smile. I entered my house and saw my father sitting in his wheelchair, looking through a large leather-bound book. From the wear on it, this book must have been a part of my family for years. My father looked up and beamed as I walked over and hugged his shoulders.
"How's my girl?" he asked me with a wink.
"Ness is great, Dad. She was asking me all about Christmas today and told me she was going to make me the best present ever. Alice said she saw a vision of the gift I am giving Ness, but I have no clue what it could be yet!" I grumbled, frustrated.
"Leah heard you in your sleep one night trying to figure out a gift for Nessie. She told me about it, thinking I might be able to help," he stated.
"I wish she minded her own business sometimes. I'd like to be able to come up with an idea for my own imprint, thank you very much. And a more important problem. Um, why the fu…I mean hell was Leah listening to me talk in my sleep?" I questioned my Dad who answered with a hearty laugh.
"Jake, you were in wolf form, sleeping outside of Nessie's cottage bedroom. Leah came to relieve you one morning and saw your thoughts. Calm down…and watch your mouth!"
I might be the tribe's chief, but he was still my Dad. I apologized.
"Dad, I had an idea about something, but I'm not sure how to go about it. I wanted to get her something to show her that we are bonded together, you know? Something special to the tribe but that people outside would not recognize and start a problem about. "
I was trying to be level-headed here. I knew that I was going to be with Nessie forever, but people on the outside wouldn't understand. They would think I was a creep-o and not even Charlie could prevent someone from wondering what was up since he didn't know the entire story. "Need to know", he called it. He knew that Nessie loved me and looked to me as an older brother and that made Bella happy. That equaled happiness for Charlie.
"I think I might have found something for you, Jake. I've been scouring old written traditions from the tribe, and there is an ancient bracelet making ritual that hasn't been done in centuries. Today, rings are given to the woman as a reminder of the promise. Hmmm, it says here that the ritual is usually done with another brother of the tribe. Perhaps Quil would make one for Claire with you?" Billy pondered.
"Dad, you are amazing. This is exactly like what I wanted to do for her. I'm going to phase and call Quil before he goes on patrol!" I screamed over my shoulder as I tore out of my pants.
My dad sighed. "Jake, I'm going to ask the Cullens to foot us a loan to buy stock in Hanes because between underwear, sweatpants, socks, and undershirts, you're making us poor. "
I bowed my wolfy head and ran out into the driveway.
Quil? Can you hear me? I called for him.
Jake? Are you okay? What's wrong? His worried thoughts rang through clearly.
Nothing. Paranoid much?
Well, it is kinda late, and I am about to go on patrol. What's up?
It's kinda important. Could you come to my house?
Sure, Jake. Are you really okay?
Quil, I want to ask you something important. Please hurry. It's about Nessie and Claire.
Why didn't you say so?! I'll be right there.
I felt his confusion as he ran to find me at my house. When I saw his furry butt come into view, I nodded to the trees and phased. He was also in human form when I walked over to him.
"We should get Nessie and Claire together, Jake. I think Claire would love to have a friend." Quil started.
"Sure, sure, Quil. Um, I wanted to ask you what are you getting Claire for Christmas?"
Quil's face drained of all color.
"Jake…I didn't get her anything! Oh my gosh…what will I ever do? She'll be unhappy! I can't have that. Do you think Embry can go in my place tonight so I can think of something?" Quil began to pace back and forth, mumbling to himself.
"Quil, dude, calm down. I wanted to ask you to do a Quiluete ritual with me. My dad found it. It's a bracelet making ceremony where we, as brothers, weave ropes for Claire and Ness. I couldn't do it without you…please? Don't make me beg and get all schmaltzy, okay?" I whined.
Quil looked up at me with the biggest smile.
"You'd really do something like that with me?" he questioned.
"Dude, you're my best friend beside Bella. You're the only one who really gets this whole thing. It'll be cool. We get to learn this tradition, make Claire and Ness these great gifts, AND show our bond with them and one another all in one fell swoop. Who else would I do it with?" I patted him on the back. "Now just say yes before I try to hug you or something." I laughed.
"You tell me the time and place, Oh Mighty Alpha, and I will be there!" Quil nodded.
I had the idea for the present. Now, it was time to make it happen.
Chapters
Information
Author

Rating

Reviews

17

Words

33526

Views

1

Published

25 Jun 09

Updated

04 Aug 10

Status

In Progress
Categories