Text Size Large SizeMedium SizeSmall Size    Color Scheme Black SchemeWhite SchemeGrey SchemePaper Scheme        
The Forever Promise
Summary:
In Breaking Dawn, Jacob gave Renesmee a promise bracelet for Christmas. This is a story about how that decision came about and a more detailed look at the imprint from Jake's POV. *sweet and light*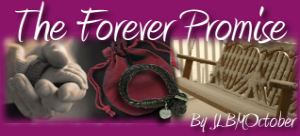 ---
Notes:
I do not own the Twilight Saga. I just love it so much that I wanted to spend some more time with the characters. No infringement is intended. Any dialogue from Breaking Dawn belongs to the wonderful author Stephenie Meyer. This is my first fanfic. It should be about 7 chapters total. Thanks to my Sarah for betaing. Thanks to my TTs and Ozzians as well as any readers. I appreciate your support on this fic.
---
2. Quil, Let's Not Screw This Up
Rating 0/5   Word Count 4150   Review this Chapter
Chapter 2: I Should Have Just Used a Piece of Tape or Quil, Let's Not Screw This Up
Song: Dixie Chicks- Lullaby
November ended and December began. Nessie was growing up so much. The little smarty read to me the other night. And not even from a fun Eric Carle book with pretty pictures. Not even the immortal Dr. Seuss. She read me a part of Gulliver's Travels. Why you ask? I don't know...I think she's a little crazy. I mean, she is Bella and Edward's daughter.
I hardly left her side. We were getting more comfortable with each other and it felt like every movement we made with one another was synchronized. She still preferred to speak with her gift but made more of an effort to speak out loud, especially when she wanted everyone's attention. As much as she acted like an adult sometimes, she was still a child and had specific wants and needs. And I could deny her nothing...even less than her father could.
It was as if she even commanded my movement. It was ridiculous in a way. I had gone, in human form, to the big house one morning after my patrol had ended. I thought we could take a nap together, when I heard her screaming. I was so nervous, I almost launched myself through the front door without even opening it until I heard what she was saying. My body froze in place at her words. Like, literally; I couldn't move even if I wanted to.
"DO NOT LET HIM IN. He can't see my present! MOMMA! Keep him outside. Please?" she pleaded with Bella.
"Okay, okay, sweetheart. Have Daddy come get us when you are ready." Bella got her calm and met me at the door.
"You heard her…She has been working on her presents for the family for days and doesn't want anyone's surprise spoiled. Let's sit in the swing and talk, Jake." Bella took my hand and led me over to Nessie's swing. We sat and talked, and when Nessie found a stopping point, I was able to go in and see her. She jumped into my arms as I opened them to her, and showed me a vision of us playing Little Red Riding Hood. I laughed, kissed her cheek, and we began to play
After a busy day of playing and laughing, it was time for Ness to head to sleep whether she wanted to or not. It was very late, and she had been rubbing her eyes, yawning, and getting cranky for hours. I tried everything. I told her a story, rubbed her back, tickled her arm…I even sang to her, a Dixie Chicks' song called Lullaby. It's so sweet and quiet…I thought it would work. I actually felt bad because I have a horrible voice. She just wouldn't budge. She just sat there, looking at me, as if challenging me to try something else. If I didn't love her so much, I would have screamed at her.
"But, Ness. You have to sleep. It's important!" I told her. She launched herself off the bed, stomped her foot (yes, just like Bella did once, a lifetime ago), and screamed at me.
"It's not fair! You go out all night and spend time with Leah and Seth and the other boys. Momma and Daddy and my family can't sleep. Why do I have to sleep? It's boring and a waste of time," she whined.
"Aw come on, Ness, you have to sleep because you are growing. Only people who sleep can grow. Don't you want to get taller?" I asked her.
"No! Why do I need to be taller when you always help me reach high things?" she countered.
The little turd...she had me there. Edward, help me....
The door opened. "Renesmee Carli Cullen…." He looked stern.
"Don't look at me like that, Daddy. I'm not doing it!" She shook her head and stuck her nose in the air.
"It's unfortunate that you think so. I guess that all the presents that we bought you will have to go to children who don't have special things like you have and that Jake will just have to wait to come to the house until tomorrow afternoon since you'll be sleeping late," he stated as he turned down Nessie's bed.
She rolled her eyes at him. She looked so much like him when she did that…
"I will gladly share toys with those children, Daddy. Every little girl and boy should only be as lucky as I am. I have you, Momma, Jakey, and my whole family who love me very, very much and want to spend hours and hours of time with me. That's the only reason why I don't want to sleep! I miss everyone too much when I do. And, if I ask him, Jake will just wait outside my window until I wake up." She just stared at him. I was shocked by her attitude. It was so….Rosalie. Vamp Daddy cleared his throat and nodded at my thoughts. Edward had to ignore her because he was flipping between trying so hard not to smirk and wanting to snap at her for being so fresh.
She hated being ignored, so she walked over to me and tugged on my shirt so I would bend down. She touched my face and showed a picture of me in wolf form, sleeping next to her bed. Her eyes pleaded with me as a tear slipped down her pink cheek.
"Aw, Ness…I can't stay tonight! I have…" She looked at me expectantly. "I have something important to do. For you. But I have to go with Quil to do it. I'll explain on Christmas," I told her as I picked her up and carried her to bed. Please don't be sad…please don't be sad…
Edward looked at me as if to say "She's got you wrapped, buddy." I knew with that look from Edward that she was going to fight me, and I would lose.
She touched my nose with her tiny index finger. "But…Jake," she whispered, "Can you stay with me until I fall asleep?" The look in her eyes made me melt. I had to comply.
"Until you are asleep, Renesmee," Edward told her. He kissed her goodnight and patted me on the shoulder. "Good luck…you're going to need it, Mutt," he laughed at me before leaving the room.
I should have known that agreeing to stay until she fell asleep was going to be a project. I should have been more specific. She was a smart one, I'll give her that and manipulative to boot. She already figured out that she could bribe me into doing almost anything for her. It was both a blessing and a curse. After about two hours of playing around, I was upset. Thank goodness for the empath in the house. He sent reinforcements to rescue me
"Renesmee," a voice called to her from the door in a sing-songy voice. "I am the Ghost of Christmas…uhhhh…The Ghost of Little Girls Who Won't Sleep So They Don't Get Presents. I can hear you are awake. I know where your Auntie Rose hid all of your presents, and I am going to take them away…." The voice wavered off as Nessie gave me the look of death.
I smiled at her, trying not to laugh because I knew exactly who was behind that door and what was about to happen. Something in Nessie's eyes told me she knew it, too.
A giggle was heard from downstairs right before…
The door crashed open and fell off of one hinge as a huge figure draped in a sheet came gliding in...until the sheet got caught on the door. The figure tried to unstick itself before ripping the other part of the door off.
"I'll fix it tomorrow," I heard Jasper say with a laugh. His happiness lately was so infectious that he was sending it all over the house.
Nessie just sat there, eyes wide and trying not to laugh. She reached over and touched my leg.
I know it's Uncle Emmett. I'm sorry I gave you so much trouble…please don't take my special present from you away, Jakey. She turned her pictures into words again and looked as if she were going to cry.
"The Ghost" looked at her sad face and stopped making the ghostly "oooooo" sound immediately.
"Nessie, don't cry. Please," Emmett whispered, "I'll get in trouble from your Auntie Rose again and I won't get any for a week! Do you know how long that is for a vampire?"
"EMMETT!" Rose shrieked from the bottom of the stairs.
Ness looked at him quizzically. "Get what, Uncle Em?" She looked so innocent. I had a vision of Bella explaining to Ness what "getting some" means, and I almost threw up in my mouth. I glared at Emmett.
"Uh, Squirt…that means that I won't get any…uh…" he looked at me for help.
"He won't get any new clothes this week is what he means," I blurted out.
"He doesn't even like clothes…but okay. I won't cry if you pretend to be the silly ghost again. And this time…be the Silly, Sleepy Ghost Who Helps Little Girls Rest. Can you do that, Uncle Em?" She batted her eyes, and he was done for.
I laughed at him, hoping that he would be more successful than I, considering it was 10:30much later than her usual bedtime of 8. I hugged Nessie to my chest and kissed her forehead before placing her onto her bed and covering her up in the Quileute blanket Sue had made for her.
She grabbed my hand and kissed my palm. "I love you, Jakey. I've been working so hard on your present. I hope you love it," she whispered sweetly before turning her eyes to "The Ghost" and smiling at him. She patted the space on the bed next to her. It's a good thing that Esme decided to have a big bed made for her. She probably knew that Ness would never sleep alone, especially when in the big house.
I stared at her as Emmett, big, burly Emmett, got into bed with her and cuddled her to his chest. She waved to me as I stood, motionless at the door, and blew me a kiss. She closed her eyes and settled into Emmett's arm. Everyone loved her so much, but it pained me to see him holding her like that. Not that he would ever hurt her or that she loved him more than she loved me. I just…I loved her so much that it hurt me to leave her, even for a little while. But, I had to make this bracelet for her. I wanted to make it so she could have it forever. When it came time for me to give her a ring, I would take the bracelet off and save it for our first son or daughter to give to their imprint.
"OKAY, JACOB. That's enough! Don't you have to leave now?" Edward bellowed from the hallway. Crap, I didn't mean for him to hear my thoughts. Now he knew what I was giving Nessie. I hope he would keep quiet about it.
"I'll keep quiet if you control your thoughts," he hissed as I passed by him and Bella in the hall.
"I don't know what you were thinking, Jake, but I've never seen Edward turn green before," Bella joked.
"You won't be laughing when you find out, Love," Edward promised. "And then, she really will rip your head off, Mutt. And I'll make sure Seth is out of the way first!"
Bella looked at me stunned.
"It's nothing gross, Bells. I was just thinking about Nessie when she was older and how special she is. Honestly, that's all!" I admitted.
Bella looked back and forth between Edward and me. "That's basically the gist of his thoughts…and you'll find the rest out on Christmas."
I kissed Bella goodnight and walked down the stairs. Alice danced over to me before I reached the bottom step.
"Um, whatever you plan on doing tonight, you know I can't see it. BUT, I just thought I'd warn you that I saw a vision of Carlisle trying to figure out how to untie knots…when they are stuck on people. Be careful, okay?"
I gulped. Maybe this wasn't such a good idea.
xoxoxoxoxoxoxoxoxoxoxoxoxoxoxoxoxoxoxoxoxoxoxoxoxoxoxoxoxoxoxoxoxoxoxoxox
Song: The Beatles- With a Little Help from My Friends
Before I turned around to go back to my little one, I phased and ran back through the woods to La Push. I loved running. It made me feel so free. I crossed Seth on my way back.
Quil is waiting for you on the beach. He asked me to tell you to meet him there. Good luck…his voice trailed off as I phased back to human form.
Seth had, of course, seen what Quil and I were about to do in our thoughts for two weeks now. He was so excited for both of us and made us promise to help him with the ritual if he ever imprinted. I hope he did someday. He was a good kid and deserved to be loved by someone. He was my brother for all intents and purposes, and I just wanted him to be happy. He joked once about imprinting on Quil and Claire's kid or mine and Nessie's. To be honest, it should have bothered us but it didn't. If either one of us had daughters, we would be lucky to have them loved and protected by Seth. But I digress.
I was nervous as hell. This ritual was important. I mean, it's not like if we screwed up that the God would come down and smite us or something. It was just important to Quil and me because we loved Claire and Ness so much. We wanted to show them that we knew this was a forever promise. We could never stop loving them, even if they chose someday to love someone else.
I almost doubled over in pain as I thought about that possibility. I lowered myself to the ground to catch my breath as I heard footsteps crunching through the sand.
"Jake! Dude! Are you alright?" Quil screamed. I felt him checking my pulse, and he opened my mouth.
I swiped his hand away.
"What the hell are you doing?" I groaned.
"I've been reading up on First Aid, CPR, and all that…you know, in case I am watching Claire and she chokes or can't breathe or something. I was making sure you were okay. Jesus H., man. Don't lose your cool!" Quil stammered.
"Sorry, I just had a bad thought about Nessie. But I don't want to talk about it. Do you have everything my dad left for us?" I changed the subject, a dull ache still in my heart, as I stood up and brushed sand off my knees.
My dad was amazing. He had researched the ritual for Quil and I. Evidently, it used to be done in front of the entire tribe during the first days of the werewolves. This way, everyone in the tribe knew that the wolf had imprinted and the eventual union was celebrated. This was also the imprintee's initiation into the secret since before, they were not allowed to know…and the secret was kept a little better then than now.
Yeah, I know. That was my fault, too. I'm an Alpha, so uh, I can do whatever I want. Yeah, I went there.
Only one time in our history had a wolf imprinted on a young child, and so, a smaller bracelet was made. My father had found the story, and gave it to us.
"Let's read the story again, so we make sure we do this right!" I said.
Quil nodded and sat down on the large driftwood near the ocean. A piece of wood that had once been Bella's and mine and that I would share someday with my Ness. I smiled at that, and sat down next to Quil.
"Okay, it says here that Thunderfoot was a young man, a teenager, when he began to phase."
"Just like us!" Quil exclaimed…the way he did the other 9 bajillion times we read the story together.
I laughed. "Yeah, just like us. Anyway, he joined his brothers. During a hunt, far away from the tribal lands, they heard a cry in the forest. Being protectors, they ran toward the sound, hoping that they were not too late to help. Thunderfoot, being a new wolf, was very fast and got to the sound first. He was horrified to find that it was a child, about 4 years old. She was lying in a pile of leaves, crying out into the night. In order to not scare her more than she already was, he ran behind a tree and phased to human form. He walked over to the screaming child and looked into her eyes. The rest, as they say, is history," I finished as Quil and I both got lost in thought.
Or in this case, her-story. Their eyes met, just like Quil when he saw Claire and me when I saw Ness, and the world tilted on its axis the wrong way. Space and time collided. Pigs flew, the polar icecaps melted…you get the picture. I thought back to how I told Bella once that Edward was like a drug to her. I was disgusted at the time, but now I fully understood what I was like to be connected so intensely to someone that you weren't just yourself anymore. It was horrifying and wonderful all wrapped up with a big, shiny bow.
I smiled and looked over at Quil, who had this dumb grin on his face. I punched his arm lightly to break him from his trance and walked over to the fire pit.
The pit was set ablaze, and we started to say the words spoken so long ago by our brothers.
"Bless this rope, O Great Transformer, as we embark on a new journey through life. Let this rope never fray and be a reminder of the eternal commitment."
Quil bent down and picked up the two long bunches of rope and walked them over to me. I took one and stared at him.
"Uh...you think we should do a practice run first with some of the extra to make sure we do it right?" I asked. "I mean…I don't want to screw it up."
"That's a good idea, Alpha-nator." We both sat in front of the fire with small pieces of the extra rope. After about 10 minutes and a lot of swearing, Quil had his piece tied around his ankle and his arm, effectively making rope handcuffs, and mine had somehow gotten caught on my leg hair. We were both sweating as if we had run across the United States and back. So this is what Alice was talking about. Good God, I couldn't believe what a mess we had made.
"Quil, maybe we should help one another. Let's do one bracelet at a time. I can hold the top for you while you braid, and then we'll switch. I think that will help us not get caught up in it."
Quil agreed. "Can you reach that knife and cut me out of these cuffs? I tied them so tightly that I can't break free myself." He laughed nervously.
Wow…if Quil couldn't trash his rope, then Claire's bracelet would never break. I was hoping I could make Nessie's as strong.
Once I got him all untangled, Quil pulled my rope off my legs. He definitely yanked out some leg hair, and I screamed like someone was stabbing me. I hoped no one would notice…the scream or the missing hairs.
We worked on Claire's first. It took us a while to get a rhythm, but we finally figured it out. I watched Quil braid the ropes with a dedicated frenzy. He had his tongue stuck out of the side of his mouth like he did when he was concentrating. His large fingers wove the ropes up and under each other with precision. I was in awe. I knew that my bracelet would not be made as easily.
About two hours later, it was my turn. I let go of Quil's braided rope as he stared at it.
"It's missing something," he acknowledged.
"What do you mean? It's beautiful. I want one," I declared. I really did. Quil did an amazing job. If it weren't so important for me to do this for Ness, I would have had him do it.
"I don't know. It just looks…so plain. Like it's not enough for Claire. Maybe after you make yours, you'll feel the same way. Let's get to it!" Quil encouraged.
I was stalling. Big time. "If you are tired, we can do this again another night. I totally understand since you did patrol all day," I assured him.
"Are you stalling?"
"Uh…of course." He knew me too well. "I'm just…you're right. How can this be enough for Claire and Ness? It's just rope," I huffed.
"Oh, Jake. That's not what I meant. I want to add something to it, like a charm or something. After making it, I understand how important it is for Claire to have this. You'll see. Come on, I'll help you."
Quil and I worked way beyond the sunrise. It was almost 9:00.
"You are a good friend, Quil," I murmured as I wiped my brow. Phew, it was finally done.
"I know. Here, make the knot at the bottom so it won't come undone…"
For someone who could whittle a small wolf charm, I had to admit that this braiding stuff was tough to do! I was getting frustrated so easily, but Quil was amazing. He kept telling me how happy Nessie would be when she opened the bracelet and how pretty it would look on her. He waxed poetic about how Claire and Ness would show one another their bracelets and talk about them when they met. The more he spoke in his calm voice, the easier the braiding became. Before I knew it, I was tying the knot at the end of the second part of the double braided strand.
"We need to make charms, Quil. With their names and ours on them. Best Friends Forever, or something. I know it's corny. We can think about something better. My dad knows how to do metal work."
Quil tapped his fingers on his chin. "How about…yeah, that's it! We'll do that!" He was all excited.
"Are you going to share with the rest of the pack?"
"Oh, sorry. Yeah, I was thinking we could just make a round charm that says "Always" on it. Too cheesy?"
"Quil, have I told you lately how awesome you are?"
"Not lately…but thanks, man. You're awesome, too!"
We held our crafts as we walked back towards our homes, smiling like idiots. I waved to him as I crossed the street to my Dad, sitting in his wheelchair outside with Charlie. Charlie was showing Dad the newest pictures Alice and Blondie had taken of Ness. He was enamored of his granddaughter.
I smiled and nodded at both of them as I went to shower and change after the long night. I made a note to ask my Dad about the charms as I let the cool water run down my chest in the shower.
It had been too long. Almost twelve hours by the time I was done showering and eating something. I needed to see my Ness.
Wondering why I bothered getting dressed, I quickly took off my clothes and tied them to my leg before phasing. I ran as fast as I could, losing my shirt in the process.
Crap, I hope I left clothes over at the Cullen's, I thought as I approached the yard. Edward didn't really like it when I was shirtless near Nessie. I understood…it made me uncomfortable, too.
I gulped as I reached the front walkway. Something was wrong. And I was about to find out what.
Chapters
Information
Author

Rating

Reviews

17

Words

33526

Views

1

Published

25 Jun 09

Updated

04 Aug 10

Status

In Progress
Categories