Text Size Large SizeMedium SizeSmall Size    Color Scheme Black SchemeWhite SchemeGrey SchemePaper Scheme        
The Forever Promise
Summary:
In Breaking Dawn, Jacob gave Renesmee a promise bracelet for Christmas. This is a story about how that decision came about and a more detailed look at the imprint from Jake's POV. *sweet and light*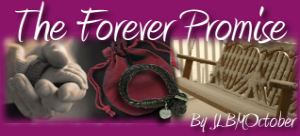 ---
Notes:
I do not own the Twilight Saga. I just love it so much that I wanted to spend some more time with the characters. No infringement is intended. Any dialogue from Breaking Dawn belongs to the wonderful author Stephenie Meyer. This is my first fanfic. It should be about 7 chapters total. Thanks to my Sarah for betaing. Thanks to my TTs and Ozzians as well as any readers. I appreciate your support on this fic.
---
5. We Wish You a Vampy Christmas
Rating 0/5   Word Count 7859   Review this Chapter
Chapter 5- We Wish You a Vampy Christmas
Song: The Vienna Boys Choir- Pachebel's Canon in D (Sanctus Movement)
It was almost dawn on Christmas Day, and Ness was still asleep. I was getting rather impatient. I knew she was tired since Christmas Eve had been eventful. I started thinking back to last night.
The covens that celebrated Christmas told Nessie stories about their traditions. She got excited when Benjamin told her that everyone in Egypt had to have a new outfit for Christmas Eve. She showed me a picture of Alice taking hundreds of dresses out of boxes for her. Siobhan, Liam, and little Maggie distracted her before she could get sad thinking about missing Alice and Jasper and told Ness about hanging sacks instead of stockings and all about Santa Claus. I knew she had lots of questions about Santa, but I left those for her parents. I couldn't ruin the dream for her, and I didn't know if they had planned on playing the Santa game since she was so smart.
Every one of the non-Cullen vampires gave Nessie something special for Christmas, which she opened immediately, thanking them and fawning over their generosity. Her presents to them were more pictures, but these were worked on very seriously. Each picture was of Ness and the vampires in question. For being only a few months old, she really drew amazingly well. I am a little biased, I know, but still.
Being that it was Nessie's first Christmas, the other covens were nice enough to go hunting far off after giving her gifts so the Cullens could have family time. On Christmas Eve, I, of course, was getting ready to leave too when Edward stopped me and told me to get back in the living room since Ness had something to show us. He reminded me that I was part of this family and that Billy would understand if I stayed with them tonight.
Once all of us had settled in and I was given a steaming mug of hot chocolate and some cookies made by Esme, Ness stood in the middle of the floor and cleared her throat. She surprised everyone by singing Christmas carols that Charlie had taught her during his many visits. Bella was so happy that Ness remembered them, and hearing Ness sing helped Bella to remember, too. We knew she had had too much excitement when we couldn't find her, and she was underneath the kitchen table asleep.
It was almost dawn, and I sat there, waiting for her to wake up because it was time. Time to give her my gift. I was so nervous that she wouldn't like it. The longer she slept, the more the doubts clouded my mind.
What if it were too soon for a gift like this? Would she wonder what it was for? How would I explain it to her? I started to rock furiously in the chair as I thought all of this through.
I am not rich like the Cullens. How could I even think I could take care of Ness the way she should be taken care of? And later in life…when it was time to marry her, how could I ever afford to buy her a ring? A huge, glittering diamond that she deserved to have on her finger. No, this wasn't right. She deserved better than some stupid werewolf from the reservation.
I had to get out of here and quickly. Before she woke up. I had to find something else to get her, not that anything I gave her could compare to what her parents and the Cullens could afford to give her. This imprint idea was a sick joke, wasn't it? I stood up so fast that I banged my toe on the edge of Nessie's bed. I hopped around as quietly as possible to try and quell the pain, tears stinging the corner of my eyes as I tried to avoid waking Ness up too soon. Now, I didn't want her to wake up while I was still here.
Once the pain subsided, I made my way to the door, tiptoeing as much as a huge lug could tiptoe. I turned my head to look at my little monster once more and walked right into something cold and stony. I knew that smell almost as well as Ness'. It was Bella.
"Jacob Black, where do you think you're going?" she asked me, giving me this look that clearly said, "Move and you die".
"I…I was going to get Nessie another gift," I whispered. "The one I made her, it's just not right."
"She will love whatever it is because it came from you," Bella nodded at me. "I heard Leah and Seth talking about how you and Quil worked on the present together, and he made one for Claire, too. Whatever it is must be pretty important. What makes it not right?"
I pushed by Bella, no longer an easy feat, and walked into the hallway. Bella followed me and sat down on the seat at the window that looked out onto Esme's garden on the side of the house. She looked up at me expectantly.
"Well, talk," she commanded.
I threw my hands up in frustration.
"Remember when you first started dating Edward, and you hated that he had all this money that you didn't?" I started as I paced in front of her.
She laughed. "Yes, Jake. I still hate it, and that dear husband of mine insists that it is now mine also. What does this have to do with Renesmee's present?"
"It has everything to do with it! I made Nessie something because that's all I can do. I can't afford to buy her fancy things. I made her something because I couldn't go to Tiffany's or some other hoity-toity place for her Christmas present like the Cullens can. I can't buy her toys because she doesn't want them, at least not the ones I could find for her. She has every book known to humankind. The list goes on." I hung my head. "I'm just not good enough for her…just like I was never good enough for you. You chose Edward and got rid of me, which was the right choice. But now, you're still stuck with me."
I turned away from her, ashamed that I was a nobody from La Push who hadn't even finished high school yet. I closed my eyes to fight back tears, but the traitors leaked out and fell to the plush carpet below my feet. Soon after the first tears fell, I felt a cold hand under my chin.
"Open your eyes, Jacob. Right now," Bella said forcefully. "Or I will open them for you!"
I knew better than to mess with her, especially now that she could bite me and kill me, so I opened them. Instead of seeing a beautiful, yet smelly, vampire, I saw my best friend. Bella Swan, now Cullen, looked up at me with that look I knew so well. I was about to get lectured. I remembered back to days long ago when she told me that I was "sorta beautiful" and how we walked on the beach, hand in hand, talking about the future. I knew then, even though I didn't want to admit it, that someday, we would be in this exact spot. I think something inside me knew that Bella and I would be family for real someday. I think that's why we stayed so close despite everything.
"I am not going to talk to you right now as Renesemee's mother but as Jake's best friend. Not to be redundant, but you are my best friend and were there for me when I was a wreck. You saved me from myself more times than I can count. Not to bring this up, because I know Edward is listening, but I would have died if you hadn't jumped into that water during my extreme sports snafu." We heard a low growl and the back door open and shut. Edward never liked to talk about when he left Bella. I didn't particularly like it either and put my hand up, asking her to stop.
I started to open my mouth to speak, but Bella clamped it shut, smacked my hand out of the way, and smirked at me, proud of her handy work. I didn't dare say a word.
"I love that I am strong like you and Edward now," she smiled. "Now where was I…oh! When I found out about the imprint, I was upset, as poor Seth can attest. I told you I was upset because you were claiming Renesmee when in reality that wasn't entirely true." She lowered her head and then looked up at me through her eyelashes, something that a few months ago would have killed me because I loved Bella so much. Now all I noticed: Ness does the same thing.
"Why were you sad, Bells? You know it wasn't intentional…I had no choice at first, but once I saw her…and I saw your eyes in her, I knew things would be okay. I knew that I didn't want to hurt this "thing" that hurt you. I wanted to do what I could to let her know about you…if…if you didn't make it. I didn't think you made it, Bella. I thought we were too late," I confessed.
"Jake, don't you see? I didn't want to share you! I finally got everything I wanted and didn't know I wanted. I had Edward as my husband and the Cullens as my family. I had you in my life. I had a daughter. I wanted everything in its nice, separate compartments. Knowing that you wanted to be around me when I was pregnant because of the imprint made me feel like…well, if there weren't a Renesmee that you wouldn't love me anymore." If she were still human, her blush would have been over her entire body. I knew Bella so well, and she hated to admit weakness.
I threw my arms around her in a crushing hug and kissed her hair. "Bella Swan Cullen, I will always love you! Even when I ran away, even when I said I hated you for not choosing me, I still loved you. It's just the right way now. You'll always be my best woman," I winked at her.
"Oh, Jake. You'll always be my best man," she tearlessly sobbed. "You are the only one we could ever ask. You…I…" She gripped me tighter, and I could feel sorrow wracking her body.
"Aw, Bells. It's Christmas! Don't be so cryptic. You need to ask me something?" I questioned.
"You're right, Jake. Let's have a Merry Christmas. We can talk about it later. Please be good and hide this from Edward." She shook her head as if to get rid of an errant thought. "I love you! Oh, and don't you ever say we're 'stuck' with you. My daughter and I love you, so that makes you more than just someone we're 'stuck' with." She looked so threatening with her ruby red eyes tinged black with fury. I knew she wasn't kidding.
I nodded quickly and filed away keeping her comments from Edward. I was getting better at it, save for when I slipped. We stayed that way, hugging each other for what seemed like forever, until we heard a giggle from near the door. Ness was awake.
"And what, may I ask, are you giggling at, missy?" I teased her as I removed one arm from Bella and opened it for Ness to join us. She ran from the doorway and jumped into me.
"Momma, you look like you love Jake almost as much as I do!" she giggled again. She touched Bella's face and leaned over to kiss her nose.
"Almost as much, Renesmee. And that's a lot, right?" Bella's entire face lit up every time she looked at Ness. It was amazing to see her so happy, but then a minute later, there was a flash of fear that zapped through Bella. I'm sure Ness didn't notice, but I sure did.
I must have furrowed my brow or made a face because when I snapped back, Ness was looking at me with confusion and was rubbing my forehead.
"Be happy, Jake. It's Christmas! It's finally here!" she announced. "Momma, where's Daddy?"
"He went for a quick hunt, sweetheart. He'll be back soon! Let's go see if the tree has any presents underneath it with your name on them!" Bella suggested.
"Can Jake come, Momma?"
"Of course he can! We have presents for him, too, remember?" Bella kissed Ness' nose and started to walk down the stairs. Ness put both arms around my neck and cuddled me as we walked downstairs and into the living room. I was starting to get nervous again about my present even though Bella told me to knock it off. I guess I really had no choice.
"Jake, could you call for Seth and Leah? I made them things, too," Nessie told me as Bella, she, and I sat down and waited for the rest of the family.
"Sure, sure, Ness. I'll be right back!" I phased quickly and called for them.
We'll be right there! Seth called back at me. Leah, you're going, too. Leah, come on---
I laughed as I listened to them quarrel back and forth in their minds. I heard footsteps and smelled vampires, but thankfully, it was just the Cullens returning from their hunt. Leah and Seth were close behind.
I nodded at them, and we three phased back to human quickly. Edward watched me as I righted my shirt and buttoned my shorts. When I was done, I stared back at him, waiting for the onslaught. He grabbed my shoulder and opened his mouth but our moment was interrupted by Emmett. Thank you, Emmett.
He had put on a red Santa coat and hat, complete with sparkly fur, and cleared his throat.
"Emmett, please," Esme begged. It's only dawn…people will wake up!"
"Aw, come on, Ma…it's Christmas!" Emmett pouted. Esme sighed and nodded while Blondie put her hands on her hips and tapped her high-heeled foot.
"Emmett McCarty Cullen, you better wait until we get inside this house to start doing what I know you are going to do, or so help me God…" She looked like she meant business, but Emmett needed to be Emmett.
No one was ever ready for Emmett. Edward covered his ears right before…
"SILENT NIGHT, HOLY NIGHT! ALL IS CALM, ALL IS BRIGHT!" was belted out. Oh, the irony….
Leah looked peeved to no end, and Seth cleared his throat repeatedly since I knew he wanted to join in but didn't out of fear of his sister's backhand. Emmett flung open the door to the house and proceeded to "carol" (he was actually screaming, in perfect pitch, naturally) through Silent Night, The Little Drummer Boy, Rudolph the Red-Nosed Reindeer, and his own creation, We Wish You a Vampy Christmas. Leah still looked peeved, Seth, Carlisle and Bella bit back laughter, Esme and Edward were just beaming, and Rosalie sat there going back and forth between anger and horror.
The one person who was singing, dancing, and laughing right along was my Nessie. She looked like a little angel in her white nightgown with red trim. She had insisted on wearing this particular one last night, even in her half-sleeping haze, because Alice and Jasper gave it to her. I couldn't help but laugh and clap to the beat. After about an hour of this game, we were all laughing and singing along, even the Ice Queen herself. Edward had even started accompanying Emmett's singing with the piano.
"Renesmee, would you like to give your presents out first or open presents first?" Edward asked her. She smiled at him, and he nodded at their silent exchange. This drove Bella and me nuts.
"Come on, you two. Talk out loud!" I whined.
Nessie ran at me, and I fell backwards, pretending to let her tackle me. She giggled and said, "I want to give presents first because Jake told me that his momma said 'It is better to give than to receive". I sat us both up and hugged her tightly. I never wanted to let her go.
She looked at me and frowned. "Did I make you sad, Jakey? Because I talked about your Momma?"
"Oh no, sweetie! I just wanted to hug you for reminding me of her. She loved Christmas so much, and she did say that giving was so much better than getting. I'm glad you remembered that." I patted her head.
She leaned into me and whispered in my ear, "Would she have liked me?" She leaned back and looked worried.
"Ness, my mom would have loved you, just like my dad does," I swore to her. And it was the truth. My mom would have taken one look at me and would have seen the magic. She would have been as smitten by Ness as everyone else is. That revelation seemed to make her even more happy because she jumped off my lap and began skipping around to everyone, passing them packages wrapped in polar bear Christmas wrapping paper. She even made piles near the other loveseat for Alice and Jasper, and put the gifts that Alice had wrapped (probably in March of last year!) along with them.
"We'll save those for when they come home," Nessie said confidently to us. We all got uncomfortably silent, and thankfully Emmett broke the tension.
"Oooh, polar bears! SCORE!" Emmett bellowed. "Can I eat the paper?" he asked as he wagged his eyebrows at Ness.
"No, Uncle Em!" she cried. "Vampires don't eat paper! And the bears on it aren't real. You're too silly," she shook her head at him. He threw his head back and laughed. Rosalie was practically bouncing (sadly reminding me of Alice) as she watched Ness flit back and forth. After all the presents from under the tree had been placed in piles before the recipients and advanced 'thank yous' had been given, Emmett asked, "So, Ness. Who goes first?" he smiled and winked at her.
"Oh, you do, Uncle Em. Since you're one of my favorite uncles ever!" she nodded. Carlisle had this very expensive looking video camera ready, since Charlie told him to get one so all of Nessie's firsts could be remembered. No one had the heart to tell Charlie that vampire memories were permanent, so he and Jasper ran out to get one for him and for Charlie.
Emmett smiled and ripped open his gifts one by one. He was so excited by each one and thanked all of us. His last present was from Ness. He looked at her and said, "Oh, I'm so glad I saved the best for last." He gently tore open the paper and removed a hand-made mask that looked like a black bear. A huge grin plastered his face, and Nessie looked so proud.
"Do you like it, Uncle Em? I know you love black bears, and I thought that maybe you could use it when you hunt!" Nessie explained. Emmett beckoned her with one finger, and she danced over to him. He lifted her up and tickle-attacked her. When he had made her laugh so hard she was in tears, he kissed both cheeks and replied, "This is the best bear mask I have ever seen. Thank you, Renesmee. I love it!" He slipped it on over his face and put his Santa hat back on. Even I had to admit, the mask looked great. Esme snapped a picture.
Each Cullen and even the Clearwaters opened their gifts, each of them focusing on the ones Nessie made. She made Leah speechless, in a happy way, with her gift of homemade smelly soaps and a sponge ("since Leah likes to take baths in the lake", Nessie told us). I almost cried when Nessie walked over to Leah, tentatively, and kissed her cheek. Leah looked shocked for a minute but pulled Ness in for a short hug, which was documented on film. "Thanks, kiddo. These will make me smell really good!"
She made Seth a t-shirt that said, "My Wolf-buddy" with a screen print of a drawing Nessie did of her sitting with Seth's wolfy head in her lap out in the backyard. Seth loved it and promised not to phase while he had it on. "This is great, Nessie. You drew this? It's awesome! Thank you so much!" Seth hugged Nessie and turned around to show it to Edward, who fist-bumped him in approval.
For Rose, Ness had made a collage of pictures in a huge frame. They were all of her, Emmett, and Rosalie in various places, as well as drawings of things that reminded her of them, and sparkly stickers. Emmett put his arm around Rose and squeezed her tightly.
"Come here, please," she whispered to Ness. Obediently, Nessie danced over to Rosalie and climbed onto her lap. "This is the best present anyone has ever given me," she told Ness. "Now, when Uncle Emmett and I go on our trips, we will have a piece of you with us always. I love you so much, Renesmee," she said as she kissed Ness' head.
Ness put her hand on Rose's face and showed her something. Rose smiled and replied, "You're special to me, too." She, Ness, and Emmett posed for a picture as Esme clicked away with her digital camera and Carlisle panned the room with the video camera.
I took over the cameraing while Grampy and Grammy opened their gifts. Carlisle got a sweater that said "Greatest Grampy Ever" in blue (we found out that it went with Charlie's that said "Greatest Grandpa Ever" in green). He put it on right away over his dress shirt and kissed Nessie. Esme received a beaded bracelet that spelled out "Grammy Esme" with silver, white, and gold beads. She also put hers on right away, the hand-made bracelet a sharp contrast to the delicate jewels that adorned her wrists. After praising Nessie for her hard work, Esme positively radiated happiness and showed us all with her face what we all knew: the beaded bracelet was the most precious piece of jewelry she now owned.
Ness walked over to Edward and climbed into his waiting arms after he opened some books, CDs, clothing, and keys to a Lamborghini (he promised to share with me. Yes!). "Daddy, will you open mine now?" she asked as she picked up his last polar-bear papered gift off the table.
"Of course, lovely," he replied. He pulled off the paper gingerly. His present was in a frame, smaller than Rosalie's, but his face lit up just as much. "What a surprise, Renesmee! Did you write out the music all by yourself?"
"Show us, Edward. What did she make you?" Esme leaned in as Edward turned the frame around to show a picture of him and Ness at the grand piano, her in his lap with her hands over his on the keys. The frame had a decorative paper surrounding the picture. He passed it around to show everyone, and Bella looked puzzled at the musical notes but smiled at her daughter's creativity.
Rosalie gasped. "Are these notes from Esme and Bella's songs, Edward? They must be…" She began to read the notes and hum. "And this song at the bottom. What is this? Is it new?"
"That is my Nessie song," Edward explained. "She asked me to write her a song like I did for her Grammy and Momma. My genius daughter picked out the notes and wrote them out onto this paper to make decorations. I am very proud." He looked over at Bella and mouthed 'I love you". She mouthed it back, and the three of them hugged one another. Esme couldn't help but take a picture of that.
Bella was so happy that Renesmee seemed to be loving Christmas so far. I, on the other hand, was sweating like a pig because each time a person finished his or her gifts, I knew it was one step closer to giving Ness her bracelet. I got lost in my anxiety until I heard Bella's voice.
"Renesmee…it's beautiful!" she exclaimed and smiled bigger than I had seen in a long time. She was holding a beaded necklace, almost like Esme's bracelet, in white, brown, and various color blues. The round charm in the middle said, "Momma" on it.
"I didn't make the big charm, Momma, but I picked your favorite colors for the beads and made the pattern all by myself!" Ness nodded. Edward helped Bella slip it over her head. It looked perfect.
"Jakey! It's your turn!" Nessie bounced over to me and started handing me gifts.
"Aw, you guys didn't have to buy me anything. Just being here is present enough," I blushed.
"Jacob, these gifts cannot ever be enough to thank you for being part of this family," Edward admitted.
Ness settled into my lap and pulled over the first one. I pulled the card off the top and started to open the envelope when I saw Ness roll her eyes. Edward quietly laughed and cleared his throat.
"Maybe he likes the cards, Renesmee," he said to her. She rolled her eyes again.
"You know, I don't think I'll be able to open these by myself. Can you help me?" I asked. I could tell that she was aching to rip something open. The poor thing had been so good. The child in her was making an appearance since she had waited so long and paid attention to everyone else. She nodded enthusiastically and tore into the package, revealing 2 pairs of sweatpants.
"Thanks! I really needed these!" I cried. The sizes were perfect, and they were Hanes, my favorite.
I let Ness open up all my presents, which included more sweatpants, t-shirts, socks, 2 pairs of Nike sneakers that I had been admiring online, a new engine for the Rabbit from Rose and Emmett, tickets to see my sister in Hawaii from Carlisle and Esme, and a box with papers in it as well as a set of baby play keys from Bella and Edward.
"What are these for?" I asked.
"The box has the papers for 1000 shares of Hanes stock. We figured since you single-handedly keep them in business, you should have a share of the profits! Now, as for the keys…those are for the Bronco we special ordered for you that isn't here yet," Edward replied. "Wait to freak out about it until you've seen it. It's fully loaded, black, and we even got a cool wolf decal for the back window!"
I stretched my neck to kiss Bella on the cheek and fist-bumped Edward, Emmett, and Seth. I looked back down, and Ness was sitting in front of me, holding my last present.
"Is that from you, Nessie?" I wondered out loud.
She looked scared. "It is. I made it for you…with some help," she confessed. Her brown eyes were fearful. What was she afraid of? That I won't like it?
Edward coughed, indicating a 'yes', and I smiled. "I bet this will be the best present ever! Besides you, of course."
I unwrapped a small box and opened the lid. Inside was a doll, no more than 6 inches tall. It had copper colored ringlets of ribbon for hair, and the rest of the features, save for the clothing, was drawn on. The doll had pale, white skin with red cheeks, sparkly teeth, and pink, smiling lips. The eyes were large and dark brown. The doll had on a purple t-shirt with a howling wolf embroidered on it, jeans, and purple cloth shoes.
Everyone was so quiet, and I saw Emmett lean over to Rosalie. I faintly heard him say, "She made him a voodoo doll? Of whom? Was that your idea?" before getting slapped on the back of the head.
I leaned over and kissed Ness' nose. "Is this you?" I inquired.
Her look of fear vanished, and she bounced up and down. "I'll take that as a yes," I laughed.
"I know you don't usually play with dolls a lot unless I make you. I made it tiny so that when you are away from me, I can always be with you," she clarified. "You can use the special rope in the box to tie the Me Dolly to your leg or arm or even put me in the pocket of your shorts! Even your sweat pants have big pockets so I'll fit in there!"
My breath caught, and I was speechless. She always wanted to be with me, so she made me a doll of her. Before I knew it, tears were pouring out of me. I knew Emmett was going to give me crap about it later, but I didn't care.
"Jakey, why are you crying? Do you not like it?" Ness asked all panicky. "I thought you should have a me dolly since I have a Scruffly wolf."
I shook my head, sending tears everywhere. I tried to speak but couldn't. No wonder why she dragged that wolf around everywhere. The thought made the happiness go through my entire being, and the tears kept flowing.
"Lovely, he is so happy with your gift that it made him cry happy tears," Edward told her. "This was his best gift ever; you were right."
"Well, I have to be honest; Uncle Jazz helped me a bit. He didn't want me to try and sew it alone because he said that needles were pokey! He helped me with the needle and scissor parts," she declared. "I'm glad we finished it before they went on vacation!" ***
We all clapped, ooohed, and ahhhed as I passed around my Nessie doll. The girls commented on the great sewmanship that Jasper had while the men, save for Carlisle who was just so happy with his family, vowed to bust Jasper mercilessly once he returned.
I pulled Ness back down into my lap and smiled. "Who's next?" I asked, knowing full well if Ness didn't open her presents soon, she would explode.
"Oh, I don't know, Jake," Carlisle answered. "I think we're all done with presents for this year."
Nessie looked over and started to stick her tongue out but thought better of it. This was her grandfather, after all. She put a smile back on and said, "I think we're forgetting someone!" Everyone laughed.
"Okay, okay, now, it's Nessie's turn!" Emmett shouted. "Let's see what you got!"
My eyes were glued to the little monster as she sat down amongst the largest pile of presents I had ever seen. I settled down on the floor next to Ness and leaned back up against the couch where I was met by Bella's legs. She moved them to my sides and leaned over to wrap her arms around me and rested her chin on my head.
"I could watch her for hours," she whispered to me. I nodded in agreement. There was nothing more amazing than watching Nessie do anything, even the most mundane of tasks like playing with paper.
She opened up an antique dollhouse, complete with dolls and furnishings, from Rosalie and Emmett as well as clothes and some jewelry. I sighed as I saw the large gems sparkling on necklaces and bracelets. Of course, it had to be Blondie that gave my Ness something to make me feel inferior. And I couldn't even blame her because she had no idea she had done it.
"Aren't they pretty, Jakey?" Nessie showed me, with such longing in her voice. My girl already loved sparkly things. I nodded, biting back the embarrassment. Mine looks like a piece of crap compared to Rosalie's bracelets.
Edward looked at me, confused, and I just shook my head. He turned back to Nessie who was currently ripping apart the paper on a trampoline from Esme and Carlisle, complete with the safety enclosure. This wasn't your everyday trampoline from Walmart, either. When put together, it was huge! I glanced at Emmett who was all too thrilled at the thought of having to put together not only a dollhouse but also a trampoline, too. He huffed, and Edward smiled.
"She's my daughter…I'll, uh, help," he chuckled.
She continued on, opening a hot pink iPod from Edward. "I already filled it with lots of the songs we listen to together as well as other family favorites," he told her.
Bella gave her a small box, more jewelry. Nessie opened it and cried, "Oh, Momma! It's so pretty!" as she saw the antique heart locket.
"This opens up, and you can keep special pictures in there," Bella told her.
"Can we put a picture of you, me, Jake, and Daddy in there?" Nessie inquired.
Bella nodded. "Finish your presents and then we can take one before we head over to Grandpa Charlie's."
"But, I am all done," Nessie announced. She started to get up when I picked her up and sat her on the couch in between Bella and Edward.
"You're not done yet," I reminded her. "I still have to give you my present."
"Your special present?" she whispered. I nodded to her and both Bella and Edward tensed up on either side of their daughter and me. I had a passing thought that I probably should have run this gift by them first, but Alice had said it was okay, even though she didn't know what it was. I wasn't going to bet against Alice. Especially about my Ness.
I pulled a tribal woven bag out of my pocket and handed it to her.
"It's beautiful, Jake. Momma! It looks like the little bag Jacob made you that you showed me, remember?" Nessie cried as she shook it at Bella.
I hung my head. "Like mother, like daughter. The present is in the bag, silly," I said as she and Bella both giggled. I held my breath as Edward helped Ness untie the knot.
She reached in and pulled out the brown braided bracelet, the color of her eyes, with the hammered charm attached that my dad had helped me with. He had helped me hammer in the word "Always", since that is exactly what I wanted and how I felt. I focused on the charm swinging back and forth as Nessie turned the bracelet around and examined every loop.
"Jake," she said breathlessly, "did you make this for me?"
"Uh huh," I replied, still not sure of what she thought about it.
"This is what you made, with Quil the night you couldn't sleep over?" she asked.
"Yep, I did. Quil is going to give Claire hers for Christmas, too. We had to make them together. It was part of an old ritual from my tribe," I instructed her. "Do you know what it means? It's a long story."
"I'd like to know what it means. We've got time." Edward stared me down and looked to Bella for support. She was looking back and forth between Ness and me, holding back her emotions.
"Well, one time long ago, one of the first werewolves imprint…I mean became friends with a young child. He gave her a bracelet, a hand-made one like this one, to remind her that he would always be there for her whenever she needed him." I almost let it slip about the imprint. Ness was too young to understand right now, and I just wanted her to have some kid time. There would be plenty of time to worry about telling her all that later on after we kicked some Volturi arse.
"Is this a promise bracelet, Jake?" Bella gasped.
Nessie smiled even wider, if it were possible. "A promise? That means you can't break it! That means that you'll be my friend forever and ever, and you'll always be with me!" She started jumping up and down, dancing around as if the word 'promise' had made her lifetime.
I looked over at Bella, searching for her acceptance. She shrugged her shoulders and touched my cheek. "If it has to be anyone, Jacob, let it be you," she whispered so quickly that it didn't even register with Nessie. Everyone else heard it, though.
I looked around as Nessie showed everyone her promise bracelet. Esme and Carlisle checked it out, and Esme blew me a kiss from across the room. Ness showed Emmett and Blondie; surprisingly, Emmett gave me a 'thumbs up' while Blondie commented on how sturdy it looked. She looked up and gave me a quick grin. I smiled back since I knew to take what I could get from her.
She came back and hugged me fiercely. "Will you help me put it on?"
She held out her arm, and I slipped it onto her. "I left some extra room at the knot, so as you get bigger, we can add more rope," I pointed out. "What do you think?"
"I love my special present, Jakey," she cooed. "I'll always be your girl!"
I gathered her into my arms, ignoring the low growl coming from Edward's direction, and held her as closely as I could.
"I'll always be yours, Renesmee Carlie Cullen. And now that you have this bracelet, a piece of me will always be with you."
xoxoxoxoxoxoxoxoxoxo
Renesmee POV
I snuggled into Jake and yawned. "I'm tired, Jakey. Can we nap before we go see Grandpa and Billy?"
"Sure, honey. You rest. I'll wake you when it's time."
The family left us as we sat in our comfy armchair, and Jake held me in his arms. I touched his face and showed him a picture of Claire (who I had only seen in pictures so far) and me comparing our bracelets. Can we go visit her when this is all over? And Quil, too? I showed him.
"That's a great idea, Nessie. You dream about that. Take a rest!" Jake kissed my cheek.
I fell asleep while watching my charm dangle as Jake rocked back and forth. I had everything I wanted: my families, all of them: my vampires, my humans, and my wolf-people. I had my Jacob. I was a lucky little girl.
xoxoxoxoxoxoxoxoxoxo
The family started to disburse, heading to their rooms or checking out their new gadgets. I sat in my designated chair and held Nessie in my arms. It wasn't long before I felt a cold hand wrap around my own. I looked up and saw my best friend's eyes, full of pain and sorrow, staring at me.
"Hiya, Bells," I said softly.
"Do you really love her, Jake?" Bella inquired.
"With all that I am," I replied firmly. "And I love you, too. What's going on?"
She sat on the edge of the chair and leaned over me, and I wrapped an arm around her while she ran her fingers through Nessie's hair. "That's all I needed to hear, Jake." She ignored my question. "And I believe you. I believe you. I can relax now."
I began to wonder what she meant. I clutched both of my girls with a vice grip, and Bella and I sat and watched Nessie sleep. Edward joined us and sat on the other arm of the chair, putting his arm around me and Bella. He nudged my shoulder and sighed.
"I'm glad it's you, Jacob. I'm glad it's you," he stated.
We all sat there, looking back and forth at one another and at Ness. She finally woke up and smiled at us, not feeling one ounce of fear that we all had running through our veins. She turned around and called for Esme.
"Grammy, this is my picture for my locket. Just like this. Will you take it and get it on the computer for me, please?"
"Of course, dear," Esme agreed. We all smiled brightly as the picture was snapped, the same word running through the three adults' minds: Nessie, Nessie, Nessie.
xoxoxoxoxoxoxoxoxoxoxoxoxoxox
We made our way over to Charlie's house. We were the first ones to get there, but soon it was filled with people. The packs came by as well as Billy, Emily, and Sue, to spend the day with Charlie. He was so excited to see Renesmee, and she stayed with him most of the day. It was so hard for her to be around him because she couldn't talk or show him her special vampire gift for fear that he would freak out, but she loved him so much.
Everyone else was both on edge and excited. My brothers and Leah were ready for the fight. Even Sam, normally cool and calm, was visibly antsy. My imprint on Ness made her safety as important to them as it was to me since they knew, especially Paul, Quil, Jared, and Sam, what would happen to me if something went wrong with Ness. We tried not to think about that side of the coin. As far as we were concerned, we were going to win. I just hoped that Charlie didn't notice our excitement. Knowledge of the impending doom was a giant step beyond "need to know".
Someone could have hit Charlie over the head with an anvil during this day, and he wouldn't have even noticed. He was so happy having his friends and family in his home. When it was presents time, he opened them, put his Grandpa sweater on immediately, and bragged about it to everyone there. They all patted his back, and Sue kissed his cheek. He was so proud of his gifts for Ness: a set of new hardbound encyclopedias ("For when she needs to know stuff because she's going to be smart like my Bella"), a white winter coat with a muff ("Sue said she needed a coat"), and a Strawberry Shortcake fishing pole. When Ness unwrapped that, she squealed and clapped. She had showed Bella scenes of her fishing with Charlie countless times, and now she would be able to do that once the Volturi situation was over. She hugged Charlie and kissed his cheek, giggling at him when he blushed.
We all, well the werewolves, humans, and Ness, ate the delicious food prepared by Sue and Emily and some sent over by Esme. The Cullens had respectfully given Bella some time with Charlie while they continued to prepare for the visit soon. In between watching Ness play with my brothers, Leah, Dad, and Charlie, I observed Bella. She was terribly distracted all day, as much as a vampire can be distracted. I knew something was up. It bothered me that she was keeping something from me. While Edward was helping Charlie figure out the sonar fishing system he and Bella gave Charlie, I walked over and rubbed Bella's shoulders, bringing her back to reality.
"Bells, you look like you're trying to take it all in. You'll be back soon. Don't worry."
She sighed. "I hope you're right, Jake.
On the way home, I fell asleep, a short wolf-nap, if you will. I had a weird dream. Bella and I were sitting on the swing with Ness; she was asleep, and Bella was pleading with me.
"Remember what I wanted to ask you on Christmas, Jake? Do you promise me, right here and now, that you'll always be with her, no matter what?" she implored. "If I ask you to, will you take her? Will you run? You're the only one, Jake. The only one…."
"Bella, you're acting crazy. Where is this coming from?" I snapped.
"Please, Jake," she begged. "Swear to me. When the time comes, if I tell you to, you'll run with her. You'll hide with her and keep her safe. Promise me!" She looked like a wild-woman, and I wasn't going to upset her more by questioning her.
"I promise, Bells. You don't even have to ask me. You know that I will protect her, anywhere we go. Is there something I should know?"
If the time comes…promise me one more thing?" she asked.
"Anything," I promised.
"Promise me that once things are safe, you'll come back here and tell Charlie everything. You'll tell him that I loved him so much and that I tried to keep him safe. Please make sure that Renesmee knows him. And I want her to know Sue and Billy and maybe my mom someday. Promise?" she begged.
"I promise, Bella."
I woke up with a start and started to recite Quileute chiefs in my head. Edward looked at me through the rearview but didn't ask about anything. Nessie smiled at me from her perch on Bella's lap and blew me a kiss. I calmed down slightly, but I got the feeling that something wasn't right just like I had gotten right before Alice and Jasper left.
We got back to the house, just in time to hear a vamp yelling at Carlisle. I tensed into a ready position, in case I needed to phase, when Carlisle shook his head and told me to stand down. I did as he said but glared at Amun, the vamp fighting with Carlisle. Carlisle is the last one, besides Esme, that anyone would want to fight with. Carlisle explained that Amun was angry and scared about the Volturi visit and that he was free to leave at any time. Other vamps around Carlisle told Amun to go since they would be brave and stick by the Cullens and the wolves. He didn't leave, but I know he wanted to.
The next few days were spent mainly with Ness and on patrol. I kept getting this funny feeling as Volturi day approached. All the wolves were on alert and some of the vamps even started to run patrol with us, although we didn't let the nomads and other covens on the reservation. The Cullens were allowed now.
Bella was acting really funny, sneaking in and out of Alice and Jasper's room when she thought no one was looking. I kept all these things hidden from Edward, and I started to feel a bit funny about it. Everyone was on edge. Blondie was snippier than usual, Emmett broke more PlayStation controllers than normal, and Edward spent many late nights banging on the keys to his piano.
I spent time thinking. Thinking way too much, trying to figure out what Bella was getting at with all her strange behavior and comments. She had to be speaking about the Volturi's visit. Did she want me to run away with Ness? But why would we have to run? We were going to put up a good fight, and my wolf brothers and sister would be there to help. I was super confident until a sad thought poured over me. What if Bella thought we would lose? What if Alice told her something that she didn't tell us because no one could read Bella's mind?
Protection and love was all I could offer Nessie. And as far as Bella was concerned, that was more than enough. But would it be?
Chapters
Information
Author

Rating

Reviews

17

Words

33526

Views

1

Published

25 Jun 09

Updated

04 Aug 10

Status

In Progress
Categories