Text Size Large SizeMedium SizeSmall Size    Color Scheme Black SchemeWhite SchemeGrey SchemePaper Scheme        
The Forever Promise
Summary:
In Breaking Dawn, Jacob gave Renesmee a promise bracelet for Christmas. This is a story about how that decision came about and a more detailed look at the imprint from Jake's POV. *sweet and light*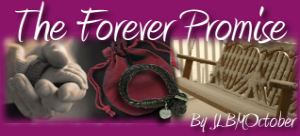 ---
Notes:
I do not own the Twilight Saga. I just love it so much that I wanted to spend some more time with the characters. No infringement is intended. Any dialogue from Breaking Dawn belongs to the wonderful author Stephenie Meyer. This is my first fanfic. It should be about 7 chapters total. Thanks to my Sarah for betaing. Thanks to my TTs and Ozzians as well as any readers. I appreciate your support on this fic.
---
8. Now We Are Free, Aren't We?
Rating 5/5   Word Count 2817   Review this Chapter
from last chapter:
Aro got what he wanted…to be the tie-breaker. This losebag really relished in this, being the center of attention, the one whose decisions mattered most. It was honestly pathetic. I couldn't wait to hear what he had to say.
Before he could open his mouth, Edward hissed, "Yes!" almost inaudibly. My head whipped around, wondering what he was excited about, until I heard footsteps. A bunch of them. My eyes were peeled over my shoulder, around Nessie's small body. And then, I saw her. She was smiling, and I knew that she had come through. She hadn't left to save herself; she had left to save Nessie. Edward nodded once more as he heard my thoughts. We were going to win this yet.
Chapter 8: Now We Are Free, Aren't We?
Song: from The Gladiator Soundtrack: Now We Are Free
Shorty. She had come back. I knew she'd come back, I thought to Edward. I knew I always liked her…well, more than I liked you, that's for sure!
He chuckled under his breath and waited for her to arrive in front of him, Jasper following closely as always. But I knew that Alice would want them to make a more dramatic entrance.
"Oh, Aro?" Edward called. He was all excited, and I couldn't help feeling the same way. I sat up on my haunches and began to bounce with anticipation. Jasper must have been throwing around the emotions because everyone on our side got a bit restless, even though they weren't quite sure why.
As Edward and Aro discussed why the Volturi were "afraid" of Nessie, it became evident that the problem was that no one knew what Nessie was going to be. How she would turn out. I knew that whatever happened, she'd be lovely…Aro just wanted an excuse to harm the Cullens. Screw that. Shorty brought something good with her, I could tell.
Jake, do you smell that? Seth called to me.
I turned my nose to the woods where I knew Jasper and Alice were and did smell something…a few somethings.
One of them isn't a vamp, Jake, Quil responded to my sniff. He was right; whatever that was smelled almost like Nessie, except not as good.
"Why don't you join us, Alice?" Edward called out.
Auntie Alice and Uncle Jasper are back! Nessie showed me as her fingers gripped my neck fur so tightly. It almost hurt, but I didn't care as long as she didn't let go.
The whole crowd on both sides stirred. Even Aro couldn't contain his happiness when he said Alice's name. He almost moaned it in reverence. It was disgusting.
Alice came dancing to us, making sure to touch Nessie's nose lovingly on the way. I felt Ness giggle and sigh in happiness. I looked back at the family and saw the same happiness that I hadn't seen in some time. Esme sighed and grabbed Carlisle's hand while clasping Jasper's for a moment as he walked by. He returned her squeeze, if only for a moment. Even Rosalie was happy, blowing both Alice and Jasper kisses as they settled near our group. Jasper winked at Nessie, Bella, and Rose and then focused on the Volturi, seeing that Alice was moving closer and closer to them.
Then I saw what I had smelled. There were two female vampires who looked like the other Amazons that Nessie loved, as well as a young man who looked about 20, with long black hair and sharp eyes. As he followed Alice into Bella's shield, he looked at Nessie and his eyes widened. I felt a sharp pull of possessiveness but was shocked back into focus by Sam's snarl.
Head in the game, Jake. If we need to take him down, we'll get to that after he helps us, Embry hissed.
The smaller female vampire began to tell Aro and the rest of us the story of this male creature who, come to find out, was her nephew. He was named Nahuel before his mother was killed by him as he was born, being that she was a human just as Bella was when she was pregnant with Nessie. I forced myself not to think back to those weeks of terror and heard Aro ask the male if he were 150 years old.
Wait…whaaaaaat?
"Give or take a decade," Nahuel said, eyes flickering to Nessie. "We don't keep track."
Wow, Jakey. He's old like Uncle Jasper. Nessie observed. Why does he keep looking at me?
I barred my teeth at Nahuel but listened carefully.
Aro continued to ask Nahuel questions, and I trembled at some of the answers. It appeared that Nessie would be fully matured by age 7. What did that mean? How would we handle all of this? I just couldn't think clearly as my thoughts came on so quickly.
We'd handle it later…all of us. Her family.
As the story continued, we learned that Nahuel's "father" considered himself a scientist and wanted to breed beings like Nahuel and Nessie, mating with humans and not really caring when they passed on. This made me angry, and I could tell that it didn't sit well with anyone. Surprisingly enough, Caius asked for the name of Nahuel's father and suggested that once Nessie was "taken care of" that they would go and find this scientist to dispose of as well.
Aro's response was one of the most amazing things I had ever heard uttered in my entire life.
"Brother, there appears to be no danger," he almost whispered, as if he didn't believe what he was saying himself.
"Dear ones," Aro called out to his guard, "we do not fight today."
No one moved or even breathed. We knew that this could be a trick; we would let our own guards down and then be slaughtered.
Aro bowed to Carlisle, muttering words filled with regret; regret for his actions or regret for the non-battle, I wasn't sure. I wasn't going to question anything. With one more longing look at Alice, Edward, Bella, and Nessie, Aro turned around and began walking back to the Volturi mob. The crowd began moving backwards as if Aro were pushing them farther and farther away from Carlisle.
What cowards.
"Is it really over?" I heard Bella whisper to Edward, knowing all of us could hear her.
"Seriously, people. They're not coming back. Everyone can relax!" Alice shouted as we watched them run back to their fortress in Italy.
Leah raised her head and howled, both packs joining her in celebration. Everyone started jumping up and down, cheering and hugging as if we had just missed the end of the world by a smidge.
That's right, we had.
We don't have to go away, Jakey, right? We can stay here? she asked me. As I turned to Bella to motion for her to take Ness off my back, Bella practically mounted me (not in that way, you pervs!) before pulling Ness to her and squeezing and kissing her over and over again. I turned around to watch Ness squeeze Bella right back, while simultaneously trying to settle into her father's chest as he wrapped his long arms around his loves.
He kissed Bella passionately as they both held their daughter close to their hearts.
Um, if you want to give me the midget, we'll leave you both so you can GET A ROOM! I shouted in my mind. Edward smirked against Bella's lips and just hugged Nessie tighter.
I smirked and ambled behind some trees so I could phase back to human.
"Momma!" I heard Nessie shout. "Where is he going? Make him come back!"
"Baby girl, he's probably phasing. He's not going anywhere," she reassured Ness. I howled in agreement and phased, pulling on my cut-offs and my "Hairy Monster" t-shirt that Emmett had found for me.
As I came out from behind the tree, I was greeted by the brightest smile I had ever seen. My Ness was standing in front of me with her hands on her hips.
"Everyone was kissing back there when the bad vampires left. I think you owe me mine, Mister," she announced as she wagged her finger at me.
I laughed, picked her up, and spun her around as she screamed hysterically, but in a good way.
"Jakey! You have your 'Me Dolly' on!" Ness observed.
"Of course I do, honey. Where else would it be?" I asked her as she grabbed onto my neck and pulled me in for a squeeze.
Once we had spun over to her family, they all took turns hugging and kissing her. She delighted in their affections and returned them lovingly. She was just so happy that she could stay with them. I was happy that we could stay with them, too.
It didn't go without notice from me that the male hybrid watched all of these family moments with an unreadable expression. Was it anger? Sadness? Perhaps a little bit of longing for what he never had with his parents?
It also didn't go without notice that Nessie paid no attention to him whatsoever; but even as she loved up her family, her eyes darted back to mine, holding me in my spot next to her.
There, take that, loser. I smirked at Nahuel. Edward cleared his throat and winked at me.
"Only you, dog; only you," he mumbled.
xoxoxoxoxoxoxoxoxoxo
As we gathered around the living room at the Cullen's house, we were debriefed by Edward on what was going through the heads of the Volturi and by Alice about why she had left in the first place. I listened intently while holding Nessie's hand as she sat on Bella's lap. She soon showed me that she was tired and fell asleep. I figured it was time for me to head out.
"I think I might actually go home and sleep tonight since the danger is gone and all. My dad will get a kick out of having me in my own bed!" I joked. I kissed Bella and Nessie before walking behind a tree to undress and phase, tying my clothes and the 'Me Dolly' before going wolf. I ran home to the reservation and caught the thoughts of a few of my friends as I crossed into wolf territory.
Here he comes! I can smell him! Embry thought.
I'll go tell Billy. The old man might pass out having Jake home for the night, Sam joked.
All right, smart-alecs, I thought. Make your jokes, but just remember that I am chief!
I phased in front of my house, not worrying about anyone around there seeing my butt because they were used to it, and pulled on pants just in time to be met with the shining eyes of my father. He had a huge smile on his face and had his arms outstretched.
"Get over here and give your old man a hug! It's not every day that I can brag that my boy helped diffuse one of the biggest fights in the history of mythological creatures, upheld the integrity of his tribe, AND promised to care for a half-vampire young!" The laughter in his eyes as he spoke made me laugh, too. It was a long time since we had been able to be so carefree. I hugged him tightly and told him how much I loved him. I might be a tough guy, but I wasn't above showing love to my father.
As we were showering each other with manly affection, a car pulled into our pebbled driveway, and doors slammed.
"You're actually home, Jake? I figured you'd be with my granddaughter since she can't be away from you for long! Help us carry in these bags, will ya?" Charlie called out.
Sue Clearwater was behind him, and I jogged over to take the grocery bags from her arms. As we brought the bags inside dad's house, and there were many, other pack members showed up to help also.
"It's been a while since we had a big meal!" Sue said. "And we have a lot to celebrate tonight." Sue kissed Seth as he walked by, hands full of corn on the cob. He blushed and grumbled about not being a baby as he got his hair tousled by Quil and Embry.
Sue started cooking and Emily came over to help her out before long. Leah arrived back also, after having taken a long shower in her own house, "to get out the leech smell", as she said. It was crowded in our little house, but we managed to fit. And anyway, it was important for us to all be together as a tribe. The warm feelings that surrounded us were enough to make even the coldest of hearts beat once more.
"So, Jake. When are you bringing Ness over to the rez?" Jared asked. "I know that Kim really wants to meet her. She really likes kids and all."
Everyone stared at him in amazement. It took me a few to realize that even I had my mouth open. I might have even drooled a bit.
"What?" he asked, all concerned.
"I didn't think any of you would want her here, so I never thought to bring her," I answered truthfully.
"Jake, she's your imprint. Plus, this separation from the Cullens thing…they upheld the treaty for years, asked permission to break it, and fought alongside us. I think it's safe to say we can trust them on our land," Sam announced.
My mouth dropped open again.
"Um, why would you all have a problem with my granddaughter coming here? And what's an imprint? A treaty?" Charlie furrowed his brow.
Sue patted him on the back and kissed his cheek. "Need to know, honey. Need to know."
"Ah, never mind then. Just…be nice to them, okay?" Charlie nodded and turned to talk to Leah about something, completely ignoring us, or trying to.
"Jake, why don't we have a bonfire once the warmer weather hits? We can invite the tribe members in the know, their imprints, and the Cullens. To more officially welcome them to the family and all. I think that would be a good idea, don't you?" Quil suggested. "I know Claire and Nessie would like each other. It might be good for them to have a friend. I mean, Nessie's going to get bigger a lot quicker, but…I'd really like it if they were friends."
"That's a great idea, Quil! Nessie really wants to meet Claire and the other ladies, too."
We all ate so much food! Sue and Emily just cook so well, and it's impolite not to eat well when they slaved over the stoves for us. As much as we all enjoyed one another's company, all of the wolves were exhausted. I gave everyone a week off from duty, unless they wanted to (and most of us agreed to run short patrols anyway), and we all went to sleep. I crashed as soon as my head met my pillow and dreamed of my beautiful girl, happy that she was able to stay with her family.
xoxoxoxoxoxoxoxoxo
It was a quiet evening. I sat in the porch swing I had made with Embry and Quil and rocked back and forth with Ness in my arms. She sat sideways with her head on my shoulder, one arm wrapped around my neck, holding on for dear life, even though she knew I would never go anywhere, and the other hand pressed palm down against my chest.
She wasn't sleeping but was enjoying the silence of the sunset. She projected her thoughts to me, but they weren't words, just flashes of colors that made me feel warm, warmer than usual. I felt her stir and looked down into her eyes. She smiled and pulled my face down to hers.
"I'm happy, Jakey," she whispered and kissed me on the cheek.
"I'm happy, too, Ness," I whispered back.
She cuddled up to me, and I wrapped my arms tightly around her small frame. Her breath evened out, and I knew she was asleep. I sighed and kept sitting, unwilling to let this beautiful moment of contentment pass us by, when I heard whispers. I knew it wasn't Ness, so I looked to the window next to the swing. I saw Bella and Edward sitting amongst the Cullens, Quil, Embry, Seth, and even Leah, watching Ness and me. They were in the same position that Ness and I were, Edward holding Bella on his lap, whispering words of love and devotion back and forth to one another. I smiled at the picture before me, wolves and vampires and hybrids together, where everyone was loved and cared for, and where everyone could live happily ever after.
Yeah, the old cliché. I wanted my Ness to have a happily ever after, just like the princess she was. And our family would have one right along with her, forever and ever.
THE END
Chapters
Information
Author

Rating

Reviews

17

Words

33526

Views

1

Published

25 Jun 09

Updated

04 Aug 10

Status

In Progress
Categories