yesika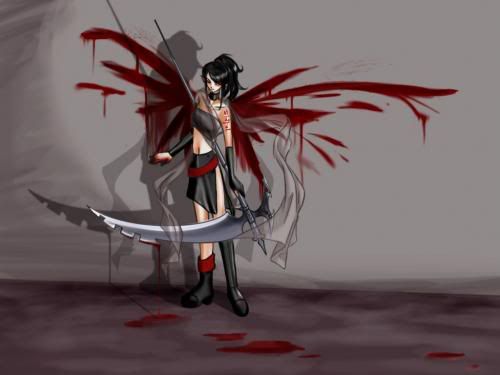 I am a hard core bitch. "Sometimes being a bitch is all a woman has to hold onto" - Dolores Claiborne My name is Yesika. aka YES, I Kick Ass! Here are some interesting facts about me: 1) I am a bitch. Well not exactly, but I would rather be heard than let some thing bad happen and know that I could have had a say 2) I love to read and write 3) I am obsessed with vampires, twilight and new moon, supernatural and dark angel. 4) I am very energetic 5.) http://www.myspace.com/yesika32 Favorites~ Movie: Interview with a Vampire, Queen of the Dammed, Dracula, Green Mile, Underworld, Underworld Evolution, From Dusk till Dawn, Blade, Blade II and III, 30 days of night, I am Legend, Fight Club, Ultraviolet, Girl Interrupted, The Matrix Trilogy... TV Show: Heroes, Blood Ties, Dark Angel , Supernatural, 24, House, Jericho, Firefly, My name is Earl, Dexter, Family Guy, The Simpsons, Painkiller Jane Color: Blood Red Band: Velvet Revolver number:32 Song Right Now: Giving up, Crawling and Shadow of the Day by Linkin Park, Fall to Pieces and She builds quick machines- Velvet Revolver, Girlfriend by Avril Lavigne, Great Escape - Gwen Stefani, Tourniquet by Evanescence, Candyman- Christina Aguilera Candy: skittles Sport to Play: volleyball or softball Restaurant: anything with a good sushi bar Favorite brand to wear: guess Store: Guess School Subject: psychology -duh! Animal: dolphin Books: Twilight and New Moon by Stephanie Meyers, The vampire Chronicles by Ann Rice, The Last Vampire Series and Remember Me series by Christopher Pike,The Tanya Huff series, Seize the Night and False Memories by Dean Koontz... The dexter series
Magazine: Psych today, Racer and Autoweek Shoes: I have way too many to choose. I guess it depends on the mood, weather and occasion though Interests: Vampires, Racing, swimming, F1, reading, writing, playing piano, skiing, psychology, languages and rock climbing, dark angel
I have been writing for as long as I can remember poems, short stories and such. I am a passionate reader. I am going to give fanfiction a shot and see where this takes me. Please have patience with me!
Stories Written (1)
Title
Age
Rating
Reviews
Chapters
Complete
Words
The Power of Love
Teen
4.5/5
23
23
No
36213
Exactly how strong is the bond that Edward and Bella share? Join Bella and Edward as they embark on a journey where their love is challenged. Watch as Bella and Edwards' roads cross and divide. Can they each handle their mistakes? Will Edward abandon Bella or will their love survive the hardships life has to offer? This is set right after Edward leaves Bella in New Moon and begins with Bella in a deep depression.
Series Written (0)
| Title | Rating | Reviews | Stories |
| --- | --- | --- | --- |
Information
Member Since

25 Jul 07

Author Of

1 stories
0 series
0 reviews