lionfallsinlovewiththelamb
Okay, so I'm a fifteen year old girl that LOVES Stephenie Meyer's books. I even convinced my mom to fly to the Host book signing for three days just so that I could be seventh in line to see her!!!!!!!!!!! I love writing stories and fan fictions. I hope that you like them! Order of Fan Fictions that I will update 1. 14 Year Old Bella
I am sorry to anyone who is waiting for this, but I am just so busy right now its not even funny. I really am very sorry! 2. A New Dawn 3. Alice's Twilight
Okay, I know that I haven't updated this in who knows how long, but you all know the story. Sorry to anyone who is waiting for it. 4. Another Alice's Twilight 5. Alice's New Moon Stories I am going to write when I have time: 1. A Complicated Story
Another story that I am writing for a friend. 2. Alice's Eclipse
Just to complete the Alice Saga. 3. Alice's Breaking Dawn
Ditto 4. The Cullens and Bella go on Vacation
Just a short stupid story that I have the first chapter halfway written, unbettaed and aweful. 5. Such Pain in her Eyes
Aros POV when meeting Bella for the first time in Volterra. And if any wants me to beta for you or make a banner for one of your stories, contact me!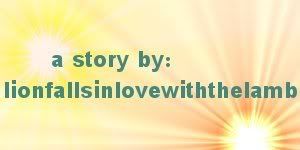 Stories Written (16)
Title
Age
Rating
Reviews
Chapters
Complete
Words
Visions of Mary Alice
Everyone
5/5
8
4
Yes
2256

This is what happens before Alice was turned into a vampire.

Alice's Twilight
Teen
4.5/5
10
2
No
3465

This is a story that by it's title is pretty self-explanitory. It is what is going on in Alice's mind during Twilight.

One-shots
Everyone
5/5
5
3
Yes
1533

This is a ton of one-shots that I wrote. They take place in the mind of people that in the Cullen's human life they were close to. For example their best friend, sister, etc.

Fourteen-year-old Bella
Adult
3.9/5
116
13
No
7681
Bella comes to Forks right before the Cullens. Edward and Bella might never have met. So, what happens to the story? I can't pick which one I like better. Please vote on your review!
Alice's New Moon
Everyone
4.5/5
3
2
No
1250

Um, be smart people.

Bella's Point of View Poems
Everyone
4.5/5
6
3
Yes
214

These are just some poems in Bella's point of view.

Another Alice's Twilight
Everyone
4.5/5
2
4
No
2843

This is my own version of what happened in Twilihgt with Alice. Someone pressured me to take it down and write a new one which I did, but this is my orignal one. If you read the newer version you will recognize the first chapter.

Twililight Questions
Everyone
4.5/5
18
1
Yes
97

These are some questions that you can think about. If you want, in your review write your answer.

A New Dawn
Everyone
5/5
23
4
No
2490

Bree was never killed by the Voltori. She joined the Cullens and Bella, too was turned. It is one hundred years later and takes place in Forks.

A New Morning
Everyone
5/5
4
1
Yes
510

Victoria had led a normal human life with her husband until one fateful day when she slipped down a flight of stairs. A Victoria/James fic.

A Dying Rainbow
Everyone
4.5/5
13
1
Yes
535
My version of Breaking Dawn after the first chapter. I made these two banners and I can't deciede which I like better. Please tell me in your reviews.
When the Sky is Gray
Everyone
5/5
8
1
Yes
518

Seth imprints! It was orginally written for my friend who loves Seth. I am the Lauren!

First Sun Ray
Everyone
5/5
0
1
Yes
501

Just a short one shot about Jane being changed.

Meeting Bella
Everyone
5/5
1
1
Yes
908

Jasper's point of view when meeting Bella. "Oneshot Cullen Challenge"

Edward this is Wrong
Everyone
5/5
10
1
Yes
511

A short one shot based on the line in the trailer, "Edward this is wrong. She's not one of us." Funny, funny, funny line!

Fairy Lights
Everyone
0/5
5
1
Yes
2518

It is a Christmas Story like no other! Twilight Novel Novice Novemeber/Decemeber Entry
Series Written (7)
Title
Rating
Reviews
Stories
Alice's Story
4.5/5
23
4
Here is basically, Alice's Story!
A Small Twist
3.9/5
139
2
The stories in this series are not telling the same story. In each story, something minor (or major) has happened in the Twilight timeline. The rest of the story is basically Twilight then. Ya, I know that I\'m no good at descriptions, but this is as good as I can describe it...
Choices for Love
5/5
23
1
Okay in this series, Bree was never killed by the Voltori. This is what happens when she meets that speical someone.
My past, Her past, His past, The past
5/5
13
2
These are all stories that take place before one of the Cullen's transfermations.
A Different Life
3.9/5
116
1
Scroll down and see the story summaries...
Silhoutte of the Sun
5/5
4
1
All about Victoria!
A Villians Life
5/5
4
2
Bascially the villains in tiwlights life.
Information
Member Since

22 Mar 08

Author Of

16 stories
7 series
0 reviews
Favourite Authors (4)
Favourite Stories (1)