WhitneyCullen
Whitney Nicolle's the name.
>

Fine me, Add me.
www.youtube.com/theSeptemberEnding
www.youtube.com/xxnicci1295
www.myspace.com/ilovehim1295
www.facebook.com/home.php#/whitney.schaeffer1?ref=name

I'd love to hear any ideas you have for a new story any ideas on how to improve my writing skills. If you ever wanna talk on AIM check me out. I mostly use this AIM account:
xxcruelchick
EdwardSexFriend
xxdarlinh69
JasperHaleLove
I'm 14 years old. Twilight, to me, is a lifestyle. Twilight's all a around me. My bedroom is Twilight themed. I love to write Twilight Fanfics and read them. But I also like to write other stories. I plan to be an english teacher and an author. I'd I had to pick a charater from Twilight that I'm most like I'd say Leah. Yes, kind of Bitchy. Lol Or Jacob. Or a combo of Rosalie and Alice.

My mom is my Twilight buddy...haha not really but she is really nice and drives me and my friends to all the midnight showings and releases. lol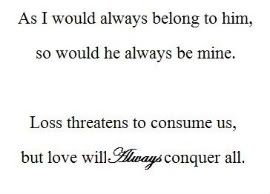 I also like to read other things. Althought Twilight is my first love. Some of the best books I've ever read are The Host. Kissed by an angel. The vampire kisses series. I resently finished Crank and Glass. Those books are awesome! There true stories and there insane! Read them.
Stories Written (8)
Title
Age
Rating
Reviews
Chapters
Complete
Words
My Immortal
Teen
4.5/5
67
7
No
8606
Bella was Changed. It's 30 years later. Bella and her small coven moved back to Forks. And so do the Cullens. Neither Bella's coven knows about her past, and the Cullens don't know what happened to Bella. In the small town of Forks, two Vampire covens can't be kept secret from each other.
This story has been put on hold for a bit. I'm very busy lately, and I honestly don't know how I can make this story more exciting. But I promise I will be updating..this story will have an ending.

A Suicidal Romance
Teen
4.5/5
30
2
Yes
2116
Name changed from 'A Beautiful Suicide'
Bella's suicide. But she's not so pathetic like in most stories. But there's a twist.....


Happy
Teen
4.5/5
57
5
No
8357


"I remeber when Jordan, Melanie and I started our new life in Boston. Little did I know that it held a big part of the past."

Edward never came back, Bella decides it's time to move on with her life. She is married and has a daughter, she is very happy with her life. But when her husband, a doctor, gets a new job working with someone from Bella's past what will happen?

Read to find out....

Story takes place 7 years after New Moon.
Sin City
Teen
4.5/5
44
4
No
7977


When Edward never came back, and Jacob and Bella never became friends, she stayed in her Zombie state far to long. Long enough to all but fail her senoir year. The only college that she could get into was in Las Vegas--Sin City. Bella's sins start to get a bit out of hand. What happens when Edward crosses Bella's path and once again saves her life?
Warning: Bella's some-what of a bad girl. She's a stripper.
Please read. I think you'll really enjoy the story :D
Also, i'm looking for a banner(:

A bit OOC
Bella's Granddaughter (The re-write)
Everyone
4.5/5
8
1
No
1021

A few months ago I had written this story, but I've rewritten it.
70 years after New Moon Bella's Granddaughter,
Zoey sets out to find Edward and Jacob.
When Zoey finds them, she finds
more than just people but emotions that her Gram once had.

I make my own banner :D I can make one for you too.
The Beauty in Edward's Life.
Everyone
5/5
5
1
Yes
723
Edward first meets his daughter as Bella is being changed.
He doesn't understand how he could have ever hated such a beautiful creature.
One Shot. *Fluff* Read & Review please(:
When it Rains
Teen
5/5
14
3
No
6817

Bella returns to Forks after being away for 3 years. Lots of questions form. Secrets are reviled, & hearts are broken. Who's the father of Bella's baby? And how does Charlie know about werewolves? What will it be like for Charlie when Bella has to explain to him about vampires...and Edward....a vampire? Hmm....and who's Lily?


"I was caught in-between a twilight stage of sleep and semi-consciousness, as I longed for the sun to fall over the horizon."
-Bella, chapter 3
Always Listen to Alice
Everyone
0/5
1
1
No
509


Alice argues with Edward about leaving Bella the morning before he actually does.


Series Written (1)
Title
Rating
Reviews
Stories
Alway and Forever.
0/5
0
0
Bella and Edward are ment to be. No matter how far apart.
Information
Member Since

22 Oct 08

Author Of

8 stories
1 series
0 reviews
Favourite Authors (1)
Favourite Stories (16)